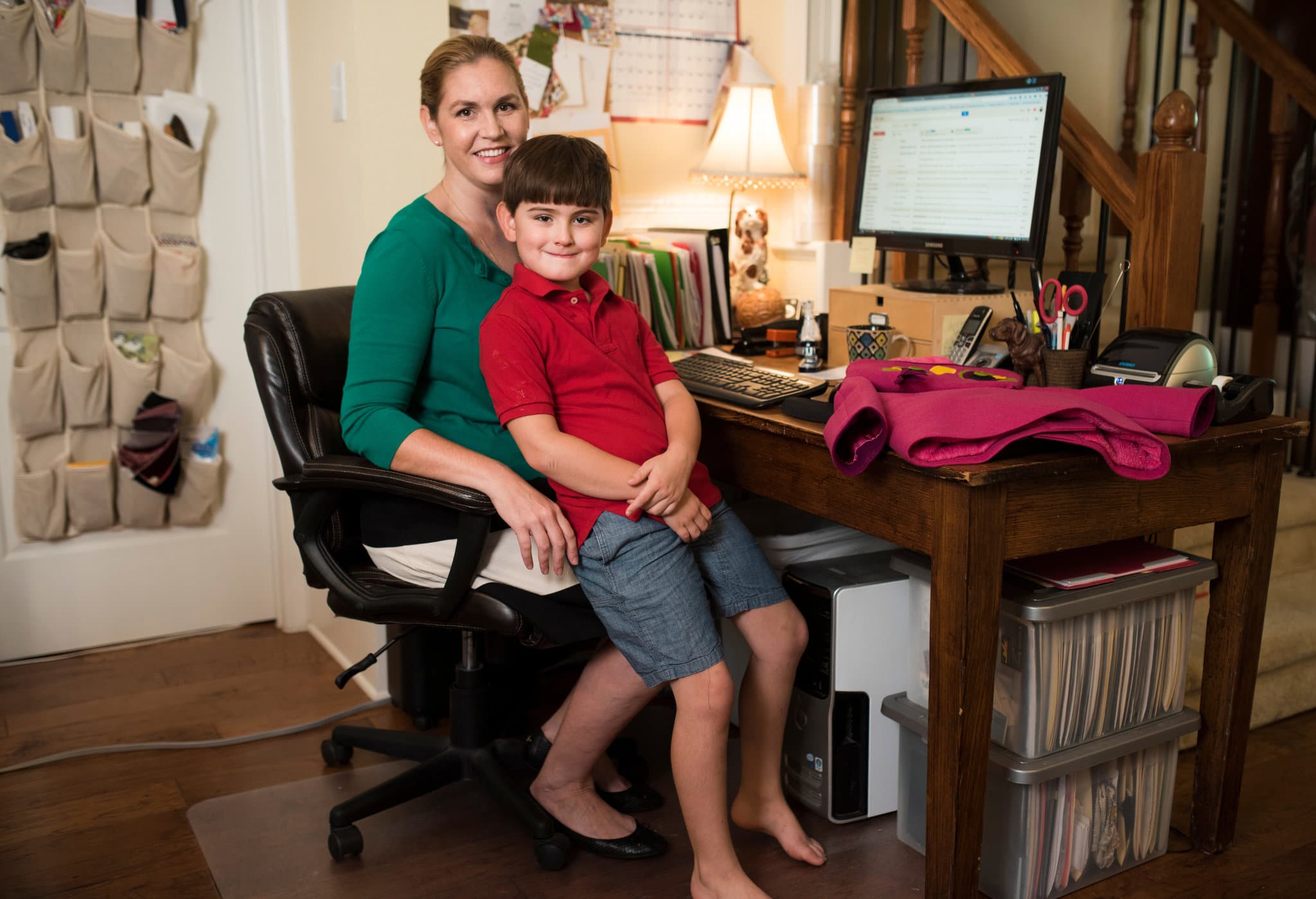 Etsy Welcomes Manufacturers to Artisanal Fold
Molly Goodall's store on Etsy, the online crafts marketplace, started as a creative solution to a parenting problem.
Her rambunctious 2-year-old, Carter, simply refused to wear the hoods on his coats. So she designed a coat with a hood hidden under a shaggy lion's mane and perky ears, one that Carter loved and was happy to wear for hours on end.
When she started selling the quirky animal coats on Etsy, she was soon swamped with orders. Her aha moment, she said, was a bulk order for 400 coats from Gilt, the flash sales website that had heard about her hot-selling product.
"I was sewing all the time. My husband would come home from work and cut fabric for me on the kitchen table, while I was sewing on the dining room table," said Ms. Goodall, who has run an Etsy store from her home in McKinney, Tex., since 2010. "It became clear that if I wanted to grow and if I wanted to develop more designs, which is the part I love, I was going to have to find help."
Material for children's jackets at Molly Goodall's home in McKinney, Tex. A small sewing atelier helps her stitch the jackets. | Photo Credit: Cooper Neill for The New York Times[p][/p]
This fall, Etsy is set to introduce Etsy Manufacturing, a new service in the United States and Canada that matches sellers like Ms. Goodall with small manufacturers. It is a bid by the company, which went public in April, to help its small sellers expand their businesses.
Etsy says the "beta," or test phase platform — essentially a directory of manufacturers prepared to work with its sellers — will also help bring business back to small manufacturers that have been devastated by a shift of production to low-cost countries.
But the move could fuel criticism that the site is moving away from the artisanal roots that have made it an attractive alternative to mass retailing. The company, started in a Brooklyn loft a decade ago, long prohibited its sellers from outsourcing their production, saying all goods offered on the site needed to be handmade.
Etsy loosened that policy two years ago to allow outsourcing on a case-by-case basis, a contentious move denounced by some artisan sellers and one that some analysts say has led to a rise in counterfeit or mass-manufactured goods sold on the site.
Chad Dickerson, Etsy's chief executive, said Etsy Manufacturing is not about encouraging extensive outsourcing or mass production for the sake of growth. Instead, he said, it is a way for local artisans and small manufacturers to find one another. And it is a logical extension, he said, of Etsy's personal, small-scale approach to business.
"We're already changing the way things are bought and sold, and we believe we can do the same for manufacturing," Mr. Dickerson said.
"Manufacturing is such a huge industry, a faceless industry," he said. "But manufacturing can be very different from what people think of it to be. It can be everything from a seamstress or a caster or a single woodworker," he said. "We want to reach those manufacturers."
Etsy treads a fine line between charting new paths to expansion and upholding the handmade ethos of its origins. Etsy's site now lists over 32 million items from 1.5 million sellers and generated $1.93 billion in sales last year, the company said.
The start-up recently came under fire from fair taxation proponents for changing the status of an Irish subsidiary to possibly avoid disclosures and lower its taxes. The group, Americans for Tax Fairness, has accused the company of acting more like a cutthroat multinational corporation than a socially conscious start-up. (Etsy has countered that its tax strategy merely reflects the increasingly global nature of its sellers and buyers.)
Still, as Etsy's new public investors grow increasingly jittery over the company's bottom line, an effort to scale up the business could come as welcome news. Though sales remain strong, hitting $61.4 million in the second quarter, the company reported another loss, weighed down by ballooning marketing costs and a stronger dollar. Etsy's share price has slumped to half of the heights it saw shortly after its April initial public offering of stock.
Helping Etsy sellers expand their businesses by teaming up with manufacturers could mean an increase in revenue for Etsy, which charges a commission on sales made on its site. Etsy also eventually intends to handle arrangements between sellers and manufacturers.
In another bid to help its sellers expand their businesses, Etsy last year launched Etsy Wholesale, a service that allows independent retailers to buy items wholesale from some Etsy sellers to sell in their brick-and-mortar stores.
With Etsy Manufacturing, the company is focusing on the opposite end of its sellers' businesses. The new platform grew out of a realization that many Etsy sellers wanted to grow, but were having trouble finding manufacturers willing to take on small orders from untested business partners, said Amanda Peyton, who manages the development of manufacturing-related software for Etsy.
"One thing we heard over and over again," Ms. Peyton said, "was an Etsy  seller who gets a lot of traction but they realize, 'Oh, my gosh, how I make this doesn't work anymore.' "
"But the process of searching for a manufacturer can be labyrinthine, like trying to find a random person on the Internet," Ms. Peyton said. "It's particularly difficult for Etsy sellers because they might want someone who works with a particular kind of ink within a 600-mile radius and is willing to meet with you personally and work with small runs."
Starting Monday, Etsy will invite manufacturers to apply to list a profile, complete with pictures, on Etsy Manufacturing. Etsy will review those applications based on a set of criteria, Ms. Peyton said, including how much the manufacturer makes in-house and how much it outsources itself.
Though Etsy does not intend to visit or otherwise directly vet manufacturers — or limit the size of companies that apply — the site will require that they commit to providing a safe and just workplace and agree to be transparent about the processes and other details involved in their manufacturing work, Ms. Peyton said.
Etsy sellers will be able to search for manufacturers based on criteria like the type of production processes on offer — screen-printing or metal-pressing, for example — as well as location and minimum threshold for orders. Sellers who find production partners through the manufacturing platform will still need to get Etsy's approval to outsource, a separate process in which Etsy assesses, among other things, whether the seller still plays a big enough creative role.
Sellers must disclose on their Etsy pages that they work with outside manufacturers. Manufacturers who receive negative reviews from Etsy sellers or are found to be violating Etsy guidelines could be removed from the platform.
The Etsy Manufacturing service will initially match manufacturers with Etsy sellers. But eventually, Etsy intends to handle transactions between manufacturers and sellers, and charge a commission.
Stephanie Schacht, Etsy's director of responsible seller growth, said Etsy Manufacturing would not greatly change the company's artisanal ethos.
"The stereotype is that people want to start mass manufacturing and aren't interested in the making process anymore," she said. "But people are using manufacturing in different ways. You might just want to outsource a tedious, time-consuming process, so you can free yourself up to focus on being creative."
Ms. Goodall searched for several months for manufacturing partners and eventually settled on two, both near her home in McKinney, to cut the felt parts required for her coats and to stitch them up.
"That meant I could really get back into design work," Ms. Goodall said. "The idea of small businesses is that you want to start something and grow it. And we're still making the coats nearby, and I'm able to contribute to my community. I'm paying workers, creating jobs," she said.
One of Ms. Goodall's collaborators is Nan Martin, who has run a small sewing atelier in McKinney for 37 years. Ms. Martin, whose clients have included Neiman Marcus and Dillard's, hires about 30 local women to stitch up orders. Some women have worked with Ms. Martin for over two decades.
Ms. Martin said that she decided to take on Ms. Goodall's small orders because she was inspired by the creativity that went into the animal coat designs. She said that manufacturers based in Texas had suffered as production increasingly moved overseas.
"I've never seen anyone make something so creative, and that's why she is successful," Ms. Martin said. "I don't want to do 10,000-piece garment runs. I want to do something with more value."
Ms. Goodall's store, Little Goodall, now exports to about 30 countries, she said. Her menagerie of children's animal coats now includes puppies, bunnies, fawns, dinosaurs and teddy bears.
"We ship everywhere. We even ship to China, and that cracks me up," she said. "We're sewing coats and shipping them to China. They love the bunny coats."
https://www.themadeinamericamovement.com/wp-content/uploads/2015/09/09-15-15-Etsy.jpg
1399
2048
The Made in America Movement Team
https://www.themadeinamericamovement.com/wp-content/uploads/2017/08/Made-in-America-Movement-Logo_340x156.png
The Made in America Movement Team
2015-09-15 12:28:45
2015-09-15 12:28:45
Etsy Welcomes Manufacturers to Artisanal Fold