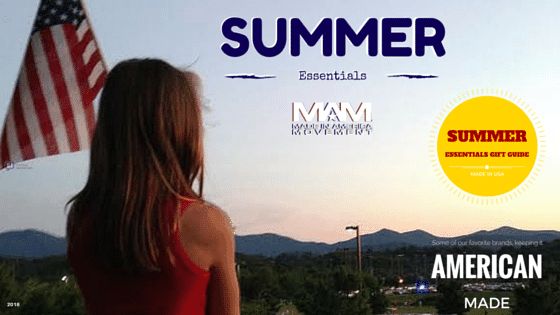 Made in USA: Summer Essentials Gift Guide
Scranton, PA – June 1, 2016 —  The Made in America Movement announce their first Summer Essentials Guide filled with Made in USA merchandise. Shoppers will find a wide selection of Made in USA gifts at varying affordable price points. It's time to vote with your wallet. Buy American made.
The Made in America Movement (MAM) is a conduit for change, a movement to inspire, educate, and raise consumer consciousness about the power that we individually and collectively have to rebuild and fortify this country's economy by looking for the Made in USA label.
MAM hopes that the message of "Buying American Made" will empower and inspire people to make positive changes, both small and large. Therefore reminding us that "we are in this together" to help create American jobs by supporting businesses and entrepreneurs that invest in American ingenuity, hard work and perhaps above all, the American people.
MAM seeks to promote awareness of the power that the American people hold in sustaining their economy. When corporations take jobs overseas to cut costs, thereby eliminating American jobs and manufacturing, consumers can counter corporate abandonment by demanding American-made goods and services.
As MAM points out on its website, www.TheMadeinAmericaMovement.com:
Did you know that buying American-made products creates jobs?  The average American will spend about $700 on gifts this year. If only half this amount was spent on gifts Made in USA, up to a million American jobs would be created!  
To build on the MAM philosophy of voting for America with your wallets and putting America to work, we've compiled this Summer Essentials Gift Guide as a convenient source to help you buy American Made. This is a good way to show patriotism, and a great opportunity to invest in American brands all year long.
"Let's unite American voices, and put America to work" declares Margarita Mendoza, Founder & CEO of The Made in America Movement. If you are an American business (maker or service provider) we encourage you to take advantage of our MAM Membership. Anyone interested in joining forces in helping to rebuild America, is encouraged to become a MAM Ambassador within their community.
Connect with The Made in America Movement:
For more information about The Made in America Movement:
Email us at: info@themadeinamericamovement.com
https://www.themadeinamericamovement.com/wp-content/uploads/2016/06/MAM-Site-Summer-Essentials-PR.png
315
560
The Made in America Movement Team
https://www.themadeinamericamovement.com/wp-content/uploads/2017/08/Made-in-America-Movement-Logo_340x156.png
The Made in America Movement Team
2016-06-30 15:17:36
2020-09-23 08:42:10
Made in USA: Summer Essentials Gift Guide