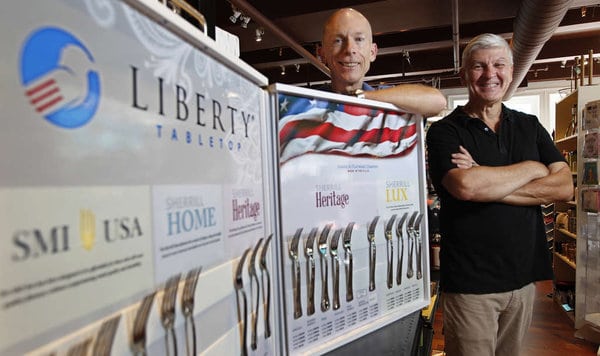 Sherrill Manufacturing: Getting The Edge on China
Sherrill Manufacturing, Sherrill, NY – FOR DECADES, competition from China has crumpled American industries like tin cans, throwing hundreds of thousands of Americans out of work.
Beating China isn't easy, but Sherrill Manufacturing has found it is possible. It has come back from the dead to be the only American manufacturer of flatware and has a blue-shaded outpost, Kitchenette, on 12th Street at Sansom.
The story begins in the mid-19th century in upstate New York with the launch of Oneida Ltd., destined to become one of the premier names in silverware. Headquarters were in Sherrill, N.Y., in the Oneida Community, a religious group that brought a novelty, profit-sharing, to its manufacturing plant.
By the 1980s, half of U.S. flatware was made by Oneida, which was also a giant in supplying the restaurant trade.
Oneida lost ground to imports in the '90s, 9/11 crippled the restaurant business and the recession was the death knell. Over time, Oneida shut down its manufacturing plants.
In 2005, Matt Roberts and Greg Owens, both former Oneida managers, bought the closed Sherrill Manufacturing factory in NY to restore American jobs.
They brought in investors, one being Robert Hanlon, a Center City retired chemical engineer whose grandfather, Robert Drummond, had worked for Oneida. Several of his family members joined in.
"The idea of being able to invest in a company that employed local workers in a community that was in tough financial times, it was emotionally inspiring for us," says Hanlon. The brand was named Liberty Tabletop.
I didn't understand how Sherrill Manufacturing could compete with the low wages paid to Chinese workers.
It can't and won't, says Hanlon.
At Kitchenette I saw a standup display of Liberty's stainless steel forks, spoons and knives, but there is no inventory on hand.
The marketing plan is to sell over the Internet to avoid the steep retail markup, Hanlon says.
But Kitchenette is a retail store.
Yes, but it is a boutique store, says Hanlon, not wishing to carry inventory.
Liberty sells online, but customers who want to "feel" a product can do that at Kitchenette.
What's in it for Kitchenette? People coming into the store to see the Liberty Tabletop might not have come in otherwise. If the customer places an online order from Kitchenette, the store gets a slice of that.
This scheme – online backed by store display – makes Liberty competitive by cutting out the middleman. Online sales were $23,000 in 2011 and are expected to reach $1 million this year.
The arrangement means there's no risk of him getting stuck with inventory, says Kitchenette owner Bob Smith, who's strong on "Made in USA."
"We sell very little from China," he says. "We used to have tabletop plates and bowls from China and had a really hard time selling them."
Americans are learning low prices may have hidden costs in terms of health and safety.
Liberty Tabletop is not anti-China, it is pro-America.
"The steel comes from mostly Pennsylvania, electricity from Niagara Falls, the people come from Sherrill," says Hanlon with satisfaction.
"When you buy from China, you don't know what you're supporting, you don't know what the working conditions are, you don't always know what's in the product you are buying," says Hanlon.
But the big deal for him is the happiness he feels "when I see the 30 to 40 workers in that plant working. These are American workers making a quality product with pride. That's what inspires us," says Hanlon.
Many of the employees were former Oneida employees who had lost their jobs.
"To have a job again is such a big deal, it's an emotional deal, especially when they have a family. And it's a good job," says Hanlon, whose grandfather would be proud.
Disclaimer: Sherrill Manufacturing & Liberty Tabletops are EAGLE Members of The Made in America Movement.
https://www.themadeinamericamovement.com/wp-content/uploads/2015/09/09-25-15-Philly.com-Liberty-Table-Top.jpg
356
600
The Made in America Movement Team
https://www.themadeinamericamovement.com/wp-content/uploads/2017/08/Made-in-America-Movement-Logo_340x156.png
The Made in America Movement Team
2015-10-22 15:04:39
2015-10-22 17:13:16
Sherrill Manufacturing: Getting The Edge on China