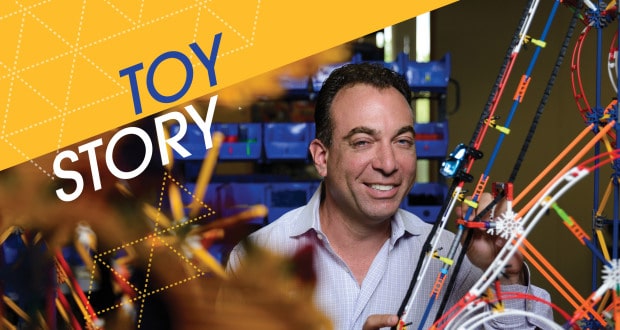 How Made in USA Manufacturing Put K'NEX Back on Track
When the leader of the free world comes calling, most people jump. When the Obama administration first contacted Michael Araten, in November 2012, he hesitated.
"I almost deleted the email — it seemed sort of fake," says Araten, president and CEO of Hatfield, PA-based toymaker K'NEX. "But there was an actual phone number, and a Washington, DC, area code, so I figured, 'OK. It can't do any harm to talk to them.'"
He made the call. A White House representative informed him that "senior administration officials" wanted to visit the plant, which manufactures Tinkertoys and Lincoln Logs as well as the classic K'NEX toy-building system. "When I say senior officials," the rep added, "I mean the president" — to which Araten replied, "The president of what?"
REBORN IN THE USA
When he realized the president in question was Barack Obama, then beginning his second term, Araten said the company would welcome a visit. A flurry of arrangements followed, including a practice touchdown of five military choppers on the K'NEX lawn, and the installation of some 70 hyper-secure phone and internet lines — in case of national emergency.
Preparing for the visit, says Araten, "was like planning a wedding in a week." On the big day, the president arrived, traveling from Air Force One to his helicopter, Marine One, to an armored car that whisked him to the door of the company. In his speech, which made headlines around the country, Obama discussed the perils of the fiscal cliff and the importance of middle-class tax breaks and jobs.
Why deliver this message, at this time, at this toy factory in suburban Philadelphia? First, it was the holidays, a make-or-break season for many businesses, especially retail, and a time when Americans tend to think more about their finances.
Perhaps more significantly, a few years earlier, K'NEX had returned most of its toy manufacturing from China to the U.S. Reshoring 95 percent of the toy making not only boosted production at the company's plastic manufacturing plant, it prevented layoffs during the recession and actually grew the payroll by 25 percent. The move was lauded not just as a bold business decision but as a patriotic one — now with Obama as cheerleader in chief.
"They manufacture almost 3,000 K'NEX pieces every minute," said the president, against a colorful backdrop that included a giant U.S. flag built of nearly 50,000 K'NEX pieces. "And every box that ends up on store shelves in 30 countries is stamped 'Made In America.'
"The story of generations starting businesses, hiring folks, making sure that if you work hard, you can get ahead — that's what America is all about."
Reshoring was just one of several strategies that helped put a faltering toy company back on track. As a private company, K'NEX does not release revenue figures, but Araten disclosed that since 2009, gross profit margins at the company have increased an average of 500 basis points. At the time of Obama's visit, the Philadelphia Inquirer reported that K'NEX had grown by 50 percent in the three years of Araten's watch.
Not bad results for a former real estate lawyer who had never been a CEO.
ROLLER COASTER BUSINESS
Prior to joining K'NEX and its parent company, The Rodon Group, Araten was chief litigation counsel for real estate developer Toll Brothers, Inc., as well as corporate counsel for King of Prussia-based O'Neill Properties Group. From day to day, his to-do list might include completing land acquisitions, battling townships for development permits, dealing with risk management and HR issues, and managing more than 100 law firms in 21 states.
At the time, he had zero experience in the toy business. But as the son-in-law of Joel Glickman, who founded K'NEX in 1992, Araten had picked up a lot just sitting around the family table. And it was there, during a family meeting in late 2004, that he was recruited to join the firm, initially as vice president and general counsel.
It was a critical juncture for the business. For seven years, it had been under the direction of CEO Norman Walker, onetime president of Hasbro International. In the early years of Walker's tenure, the company continued to grow; for example, in 2001, K'NEX released its most successful construction toy at that point, the Screamin' Serpent Roller Coaster.
Then came a series of missteps. Following in the footsteps of global giants Mattel and Hasbro, Walker sent the toy manufacturing component to China — even though K'NEX had its own 125,000-square-foot plastics manufacturing facility, Rodon, right down the road.
Rodon, a plastic injection molding company, in business since 1956, turns out billions of parts per year, like pushpin heads, plastic tubes and vials, file cabinet hardware, picture frames, washers and the like.
Offshoring production might have made sense for a broad-spectrum entertainment company like Hasbro, where the risk is spread among many segments. "If action figures are having an off year, Monopoly is probably having a decent year — or My Little Pony is, or Transformers," says Araten. "If boys' toys are down, girls' toys are up. It's rare that they're all down at the same time." Over the long term, however, that approach didn't work for a smaller, entrepreneurial company built around one concept: the interlocking plastic rods and connectors used by kids to construct race tracks, robots and rockets to the moon. 
"For a while, we were trapped in that model of, 'Let's just promote the heck out of a lot of hit items and hope that carries the rest of the business,'" Araten says. But when manufacturing moved offshore, the company lost a pivotal advantage. "It lengthened the supply chain," making it harder to react to trends in the toy industry, which may rival the fashion business for trendiness.
By the time the family sat down to discuss the future of K'NEX, "We knew we had to restructure this thing," says Araten. "We either had to sell it or decide to do something together."
BRICK BY BRICK
At that meeting, the family — including founder Joel Glickman, his partner and brother Bob Glickman, and Araten — agreed that the company, though struggling, was still strong. "Generally, there were a lot of good things still happening," says Araten. "We had good distribution and retail, and people still liked the product. But we believed we had to reestablish ourselves as a more relevant brand in the category. It sounds a little funny now, but at the time we described it as 'the Apple computer problem.'"
It was the pre-iPod, iPad, iPhone era, and Apple had a negligible market share in the PC sector because its operating system was incompatible with Microsoft Windows. "Until they decided to open up to Windows, they were stuck," notes Araten. "But then their market share started to dramatically expand."
Araten and the Glickmans saw a parallel in their own product line: those interlocking plastic rods and connectors, which did not interlock with the building blocks manufactured by LEGO. "Bricks were the operating system of our category," says Araten. "So I said to Joel, 'Can you invent a brick that will work with K'NEX?'"
That was simple for Glickman, who was inspired to create K'NEX after playing with straws at a wedding.
By developing bricks that were compatible with K'NEX rods and connectors and also with LEGO components, he created "a totally expandable system," says Araten. Adding bricks also allowed K'NEX to dramatically expand its target demographic, "going down in age from eight years old to five" — because stacking bricks is most popular among younger players.
In a second pivotal strategy, the company pursued licensing agreements, starting with the global children's entertainment brand Sesame Street. The timing was just right for what has become an enduring partnership, says Louise Levy, president of Levy Associates and group chair of the Greater Philadelphia chapter of Vistage International, an executive coaching firm. "The Children's Television Network had never done licensing, and were in the process of finding a vendor to create their characters," she says. "It was Michael's first breakthrough, and his success helped him leverage other agreements." In addition, she notes, fears about lead content in plastic toys manufactured overseas had "made 'Made in USA' a very strong selling point."
"The greatest thing about Michael was that he didn't know the toy industry," says Joe Smith, chief development officer at K'NEX. "He didn't know what he could or couldn't risk; he didn't have the burden of years of negativity to say don't do something. So he jumped into licensing, first with Sesame Street, then NASCAR, Monster Jam, Nintendo — he had the vision to take that and push it through."
COMING HOME
In January 2006, seven months after joining K'NEX in a legal capacity, Araten became president and chief operating officer, and in January 2009 took the helm as CEO. It was a bleak time for U.S. manufacturing, in the depths of the worst global recession since World War II. Faced with layoffs at Rodon, Araten and his team weighed the potential benefits of bringing the toy manufacturing back from China.
"We wanted to keep as many of our people employed as possible," he recalls. "So we looked at what we were importing and realized if we could bring it all back, we could keep all these people." Over several years, 95 percent of the exported manufacturing returned to Hatfield, saving jobs and enabling the company to rehire employees who had been laid off.
Just as important, the numbers worked. By automating the Rodon facility, the company made labor a much smaller percentage of the finished-goods cost. As a result, says Araten, "Our costs here, net-net, are actually the same or a little bit lower than they were from China.
"There are a lot of hidden costs as you unpack along the supply chain. The easy one is shipping — if you're not paying for shipping, you can spend that percentage here and still be net the same." Factor in duties and tariffs, the cost of employing double management, and other expenses, as well as the rising cost of labor in China, and the switch makes even more sense. "We are in that delta," says Araten. "We're spending more here, saving more there, and ending up in the same spot."
In 2009, says Larry Fanelle, chief supply chain officer for K'NEX, the company was shipping 575 containers a year from China to the U.S. "Now we're bringing in 75," he says. The move also streamlined the company's speed to market and enabled K'NEX to respond nimbly to changes in the marketplace. "Our lead time used to be 158 days — that's 5.3 months in a seasonal business that does 50 percent of its business in the last quarter," says Fanelle. "That distance and that turnaround time took us so far from the market, we were unable to supply products that were outstanding and wanted by the retail market. Say we got to August and some toy got really hot. Before, too bad, you couldn't get it. Now if the same thing happens, we can reload by Thanksgiving." It worked, for example, with Angry Birds, a fad that took the market by storm, and just as quickly flew the coop.
"It really does buy you 60 days in a season that's only 60 days long," agrees Araten. "Because hard as I try, I can never get them to have Christmas more than once a year."
While certain parts are still manufactured overseas — such as motorized toy parts, and anything that requires decorative painting — Araten's goal is to be 100 percent U.S.-made by 2020.
"I'm an advocate of having the shortest supply chain possible and taking an America-first approach," he says. "I believe that the most powerful brand statement any company can make is 'Made in the USA.' That gives us a brand-awareness differentiator as well as a supply-chain advantage."
American consumers clearly agree. In July, at Wal-Mart's 2015 U.S. Manufacturing Summit, company officials said that after price, the No. 1 reason people choose one product over another is where it was manufactured. "This bodes very well for us going forward," says Araten, "and our competition is years behind us."
Harry C. Moser, founder of the Illinois-based Reshoring Initiative, says K'NEX-Rodon is "probably the most prominent example of a small to medium-size company reshoring"; he says the companies demonstrate for others "the economic and strategic savings of sourcing locally" and are a sound example of the "return-manufacturing-home" message. By eliminating the current $500 billion annual trade deficit, Moser estimates, the U.S. could add 8 million to 10 million jobs, slash unemployment by about 4 percentage points, and eliminate half the federal budget deficit.
BUILDING FOR THE FUTURE
Araten has set big goals for the coming years. "On the international front, we're focused on growing in the UK, certain developed countries in Europe that have higher per-capita spend on building toys, and China."
The company's new UK subsidiary, for example, established last year, saw growth of more than 315 percent year-over-year from January to June.
Paul Fogarty, managing director of K'NEX UK, says the rest of the European market could tumble just like another kids' game: dominoes. "Establishment of the UK business — traditionally always the next biggest market to the U.S. — has also allowed us to reinvest in the brand in the UK, which means we have also been creating marketing assets — TV commercials, etc. — over here. That's important for other international markets where we're increasing our business, as the better-quality local distributors are always looking for brands they can promote and develop. Having the right marketing assets available for localization is key to secure that business. So naturally Europe — Benelux, Spain and France in particular — is the main focus for this growth at present."
K'NEX has entered into distribution relationships for key European markets — and it signed a distributor agreement for China in July.
Rob Wonderling, president and CEO of the Greater Philadelphia Chamber of Commerce, says Araten drove the company's growth with a deceptively simple strategy. "He made a conscious business decision, at the outset of the recession, to reject low-cost production in a foreign country, bring as much of the manufacturing processes as possible back to the U.S., improve the quality and offer it at the right price." Imagine that — it worked.
"I believe the long-term strength of the American economy depends on every CEO and business owner doing as much manufacturing as possible here in the USA," Araten says. "I think of it as patriotic capitalism."
During his visit to K'NEX and Rodon in 2012, Barack Obama echoed that sentiment. "We have the best workers in the world," he said. "We have the most productive workers in the world. We need champions for American business to create jobs here in the U.S."
He saluted K'NEX as "one of the few companies in the toy industry that have aggressively moved jobs back here. That's a great story to tell."
---
About The Rodon Group
The Rodon Group is an ISO 9001:2008 certified, high volume (we're talking millions!) plastic injection molder. In business since 1956, we make billions of parts each year in our 125,000 square foot facility. We offer a turnkey manufacturing solution including mold design, mold building and high volume parts manufacturing. Our globally competitive prices eliminate the risks of sourcing offshore. Read more…
CONNECT WITH THE RODON GROUP
About The Reshoring Initiative
The United States used to be the world's industrial powerhouse, and Harry Moser, founder of the Reshoring Initiative and former president of machine tool maker GF AgieCharmilles, grew up experiencing its glory.
Moser's father, a manager, and grandfather, a foreman, worked for the once sprawling Singer sewing machine factory in Elizabeth, New Jersey. Moser himself spent summer vacations from high school and college working at the plant.
But times changed. The Singer factory is now gone as are a long list of other American manufacturing plants due to decades of offshoring. Not wanting to see any more U.S. manufacturing jobs disappear, Moser found it critical to start an industry-led initiative to prove offshoring is not always the best economical decision for companies. Read more…
Learn how your company can bring jobs back to the United States of America with the help of The Reshoring Initiative:
CONNECT WITH THE RESHORING INITIATIVE
https://www.themadeinamericamovement.com/wp-content/uploads/2015/09/09-03-15-CEO-Toy-Story-with-Knex.jpg
330
620
The Made in America Movement Team
https://www.themadeinamericamovement.com/wp-content/uploads/2017/08/Made-in-America-Movement-Logo_340x156.png
The Made in America Movement Team
2015-09-03 11:31:43
2015-09-03 11:31:43
How Made in USA Manufacturing Put K'NEX Back on Track