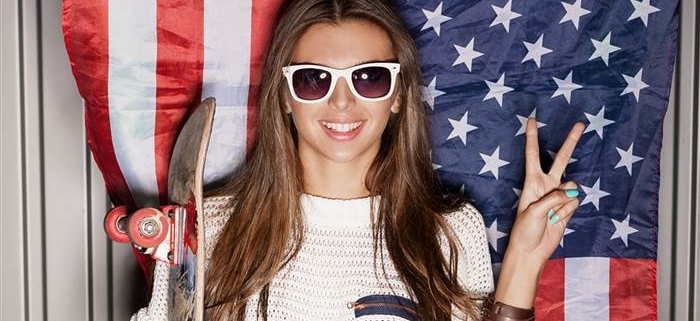 Made in USA? Tips for Finding Certified American Products
As it turns out, a flag label doesn't guarantee that a product was born in the "land of the free and the home of the brave." A recent Consumer Reports survey found that 8 out of 10 consumers would rather buy a domestically made product than an imported one, but it's difficult to figure out which are the frauds.
To simplify things, TODAY.com spoke to experts who boiled down just how to find those genuine "Made in the USA" goods. Here are some easy tips to help you become a smarter consumer. Plus, we'll share some of our favorite patriotic finds for everything from your home to your pet to your wardrobe.
1. Know the difference
Believe it or not, "Made in America" and "Made in the USA" are not synonymous. "Made in America" includes products that have been manufactured in the U.S. as well as Mexico and Canada as a result of NAFTA, explained Robert Lowry, managing director of Certified Inc., a company that provides seals of origin. "Made in the USA" means it was solely produced in the United States. According to the FTC definition, all or virtually all of the product has to be made in the United States for it to receive that label.
2. Wording matters
To make matters more complicated, there's a difference between "Made in the USA" and "Assembled in the USA." If something is labeled "Assembled in the USA," it means it's put together domestically, but not all of the products are necessarily from the United States. It needs to read "Made in the USA" to be a guarantee.
3. Look for the sticker
Matthew Bourke, the spokesperson of the Intellectual Property Rights Center, a division of U.S. Immigration and Customs Enforcement, cautions people to be wary of false stickers. And it should not be a determinant factor for purchasing domestically, Bourke explained TODAY.com in an email. Third-party organizations exist to determine if products are worthy of the "Made in the USA" sticker, but the government does not necessarily regulate them.
4. Read labels
A major sign of counterfeit apparel is a missing label, Bourke advised. If the label is there, the consumer should check that it is not cut in half from top to bottom, as that is another sign that a product has been tampered with or mislabeled.
5. Check the spelling
When questioning where a product was produced, start by checking how words are spelled in the country of origin or in the directions, Hal Sirkin, senior partner and managing director at Boston Consulting Group told TODAY.com.
"In some ways, checking the spelling is the best piece of advice because things from China, for example, often spell flag like 'flagg,'" said Sirkin. However, he cautioned that foreign manufacturers are becoming more aware of the problem, making it harder to find errors.
6. Be skeptical
Consumers should always question prices that seem like the deal of a lifetime, especially in the online marketplace. "It's what our parents told us. If it's too good to be, it's probably too good to be true," said Lowry. He cautions consumers to be especially wary when it comes to luxury goods like perfumes and alcohol.
7. Distrust the flag
The American flag is not necessarily an indicator that something is made in this country. "It's easier to just stick an American flag on something than to tell people what's in it," said Lowry. He explained that manufacturers have a tendency to overuse the flag symbol because they know most people associate it with being American-made. In reality, that's not the case. Even with the flag, consumers need to check that it says Made in the USA on the label.
8. Identify the origin
It should always be easy to spot the country of origin, according to Bourke, and consumers should be skeptical of products missing a manufacturing company. The U.S. Customs and Border Protection requires all products to have a country of origin mark.
9. Shop responsibly!
Shopping at reputable boutiques and stores is one of the easiest ways to trust that if a product claims to be made in the USA, it really is.
SOURCE: Today.com
---
ABOUT CERTIFIED, INC.
CERTIFIED Inc. is the United States' Non-Governmental Organization (NGO) and independent 3rd party Certification Source for "Made in USA, Product of USA – Country of Origin Claims". The CERTIFIED Technology team is experienced professionals with extensive, pioneering backgrounds in systems integration, software development, encryption, load balancing, electronic signatures, and data collections and national analysis… all on a worldwide scale who have developed a proprietary system of certification authentication, big data recovery, and analysis.
Find out how to get YOUR products Made in USA Certified. Fill out the form below, or Request a FREE Quote here, and a rep will respond within 48hrs!
https://www.themadeinamericamovement.com/wp-content/uploads/2016/06/tips-made-in-usa-07-02-15-today-show-usa-certified.jpg
394
700
The Made in America Movement Team
https://www.themadeinamericamovement.com/wp-content/uploads/2017/08/Made-in-America-Movement-Logo_340x156.png
The Made in America Movement Team
2016-06-30 10:16:02
2020-09-23 08:41:32
Made in USA? Tips for Finding Certified American Products