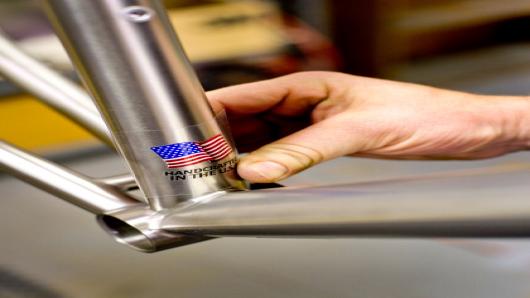 Made in the USA: More Shoppers Buying American
A curious thing is happening among American shoppers. More people are taking a moment to flip over an item or fish for a label and ask, is it "Made in the USA?" Walmart, the nation's largest retailer, earlier this year announced it will boost sourcing of U.S. products by $50 billion during the next 10 years. General Electric is investing $1 billion through 2014 to revitalize its U.S. appliances business and create more than 1,500 U.S. jobs.
Mom-and-pops are also engineering entire business strategies devoted to locally made goods — everything from toys to housewares. And it's not simply patriotism and desire for perceived safer products which are altering shopping habits.
The recession, and still flat recovery for many Americans, have created a painful realization. All those cheap goods made in China and elsewhere come at a price — lost U.S. manufacturing jobs. A growing pocket of consumers, in fact, are connecting the economic dots between their shopping carts — brimming with foreign-made stuff — and America's future.
They're calculating the trade-offs of paying a little more for locally-made goods."The Great Recession certainly brought that home, and highlighted the fact that so many jobs have been lost," said James Cerruti, senior partner for strategy and research at consulting firm Brandlogic. "People have become aware of that."
'Made in the USA' is known for one thing, quality," said Robert von Goeben, co-founder of California-based Green Toys. All of their products from teething toys to blocks are made domestically and shipped to 75 countries.
"We are reaching a tipping point, where Americans are relearning its competitive advantage," von Goeben said. "It's not about the cheapest product, but the best quality product."
For many consumers, affordability has driven the bulk of purchasing decisions. Businesses in turn have ventured abroad for cheap labor and specific manufacturing skills to keep prices down.
So what's driving big and small businesses to increase sourcing of U.S. products — beyond the obvious good PR?
In short, a shift in global manufacturing that's in the early stages. A combination of factors including rising labor costs are eroding China's cost advantage as an export platform for North America.
Mexico, meanwhile, is rebounding as a manufacturing base, and wages there will be significantly lower than in China, according to a Boston Consulting Group report. By 2015, BCG forecasts that for many goods destined for North American consumers — manufacturing in some parts of the U.S. will be just as economical as manufacturing in China.
For years, the main attraction of China outsourcing has been access to low-cost labor. But pile on related business costs such as transportation of goods, duties and industrial real-estate expenses, and the global manufacturing landscape is no longer China-dependent.
Domestic manufacturing, meanwhile, is on the mend. The pace of growth in the U.S. manufacturing sector picked up to its fastest rate in more than a year and a half in February, as new orders continued to accelerate.
And imported goods — at least in footwear and apparel — are retreating slightly. While more than 97 percent of apparel and 98 percent of shoes sold in the U.S. are made overseas, U.S. imports in those two categories in 2011 declined for the first time ever since such data has been tracked by the American Apparel & Footwear Association.
"The cost competitiveness of U.S. manufacturing is on the rise," said Cerruti of Brandlogic.
Of course, plenty of goods are still made abroad. And many Americans are broke, jobless or underemployed four years after the 2008 economic crisis. An unemployment measure that factors in those who have quit looking for jobs, as well as those working part-time for economic reasons, is at 14.4 percent. For many, buying "Made in the USA" is a luxury they can't afford.
Despite many shoppers' thin wallets, there's a growing appetite for domestically-made goods.
Blogger Sarah Wagner has turned her passion for "Made in USA" products into a successful website. USA Love List is devoted to sourcing and showcasing where to buy domestically-made items, ranging from lip gloss to pet food. She regularly scans the aisles of big retailers such as Costco and Target for American-made goods.
Site traffic has mushroomed since USA Love List launched in November 2011. "There's clearly a hunger for this sort of information," said Wagner, based in Philadelphia. "Companies have no idea how much Americans want to support American companies. They want to get behind their neighbors and communities to make sure those jobs stay there. It's struck a nerve with a lot of people," she said.
American-Made Green Products
Among the growing piles of American-made goods, many are green with recycled materials. Turns out it's easier to manufacture green products domestically because sourcing of recycled materials including recycled plastic is particularly plentiful and transparent in the U.S., said Jenna Sellers Miller, president of Architec Housewares, a 9-employee housewares business, based in Delray Beach, Fl.
Some of Architec's EcoSmart line of products are sourced domestically. The products are available at Target, Macy's and Bed Bath & Beyond. "We're getting appointments with retailers who just want to see our 'Made in the USA' products," Miller said.
Domestically sourced recycled materials and a broader commitment to the environment shape Green Toys business strategy as well. With their factory and warehouse 10 miles apart in northern California, they also cut transportation costs and related emissions.
The 12-employee company also creates a ripple effect of jobs including supporting local drivers, shipping and packaging companies and testing labs. "We could not have started this company anywhere else," von Goeben said. "This is a uniquely American company."
Later this year, Green Toys will ship its first batch of toys from northern California to China. Said von Goeben, "It's the irony of all ironies."
https://www.themadeinamericamovement.com/wp-content/uploads/2013/03/03-06-14-CNBC-More-buying-American.jpg
298
530
MAM Team
https://www.themadeinamericamovement.com/wp-content/uploads/2017/08/Made-in-America-Movement-Logo_340x156.png
MAM Team
2013-03-08 12:00:54
2015-02-09 09:31:19
Made in the USA: More Shoppers Buying American