More Manufacturing Work Returns to U.S. Shores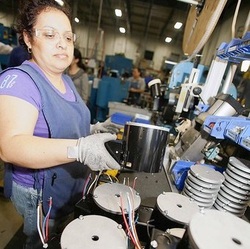 Manufacturing Work Returns to U.S. Shores 
Wage pressure in China, transportation costs push U.S. companies to shift production back home
By Alejandra Cancino and Cheryl V. Jackson, Chicago Tribune
---
In a corner of a manufacturing plant in St. Charles, a dozen workers steadily assembled electric motors that until December were produced in China.
The Bison Gear & Engineering Corp. workers inserted copper wires, tested the assembly and then readied them for the next step, the addition of a gearbox. The end products, gear motors, are used in everything from ice machines to solar panels. At one time it made sense for Bison to import motors from China, but no longer.
"We can produce them better, faster and cheaper," said Bison Chairman Ronald Bullock.
While data is scant, manufacturing experts say the number of companies shifting production to the U.S. will increase over the next five years as Chinese wages continue to increase at the same time transportation costs soar. A Boston Consulting Group report released last week predicts that by 2015 it will become cheaper to produce certain products in the U.S. that are sold to American consumers. The products, the report said, would span a half-dozen industries and include everything from machinery to electronics to furniture.
According to the Boston Consulting report, the shift to U.S. manufacturing, combined with an increase in exports due to improved U.S. competitiveness, will create 2 million to 3 million jobs. President Barack Obama is seeking to accelerate the shift by proposing a 20 percent income tax credit for companies that bring jobs back to the U.S.
Reshoring, as the move back to the U.S. is called, is the opposite of what had been a decade-long trend that accelerated in 2001 when China became a member of the World Trade Organization.
"China was an incredible deal for everybody because the government made it easy to put a plant there," said Harold Sirkin, co-author of the Boston Consulting report "U.S. Manufacturing Nears the Tipping Point: Which Industries, Why, and How Much?"
Companies looking to cut costs were lured into outsourcing parts production to China or building plants. Attractions included cheap land, a fixed currency, financial incentives, government-funded infrastructure improvements and wages of less than $1 per hour, according to the report.
"Those wages that were dirt cheap grew by 15 to 20 percent per year," Sirkin said, adding that as labor costs grew, companies were saddled by rising transportation costs and higher utility rates as well as costs related to supply disruptions and quality issues. After a while, some companies began to take note that real manufacturing costs in China started to get closer to those in the U.S.
Moreover, in the last decade U.S. companies have found ways to make products faster and with higher quality, mainly through improved automation. At the same time, U.S. wages have declined or have gone up only moderately, making homegrown companies more competitive globally.
For example, the most recent contract between Ford Motor Co. and the United Auto Workers allows the company to hire entry-level workers for $15.78 an hour, which is about half of what veteran union workers are paid. As a result, Ford committed to add 5,750 jobs. In total, Ford plans to add 12,000 jobs by 2015. A portion of those jobs will be in-sourced from Mexico, China and Japan.
Moving production to the U.S. isn't always so easy, however. Jeff Bollengier, president and co-founder of California-based Simple Wave LLC, which makes a nonspill bowl called CaliBowl, said for his company it meant having to ship machines across the ocean.
"There were major delays in getting our tools crated up and moved and dealing delicately with the manufacturers so that we didn't run into a situation where we couldn't get our tools out of China," Bollengier said. "We heard some nightmares of what could happen, like sometimes your tools could be cracked."
The move was completed in October, but his plant wasn't fully operational until late February — two months later than expected. In the interim, the company lost customers because it couldn't fill orders while the tools were being shipped. Sales plummeted, Bollengier said.
"You take a big hit to do the right thing," he said, adding that the company's decision to shift production followed encouragement from distributors. "They were saying they would go gangbusters for this if the bowls were USA," Bollengier said. "The bulk of our business is international, and consumers around the world trust American-made."
Some companies have moved back to the U.S. because of Chinese firms ripping off their designs.
That's the case for Peerless Industries Inc., which decided in 2009 to buy equipment to make in-house its aluminum mounts that are used to fix flat-panel televisions to walls. The move followed nearly a decade of dealing with Chinese companies copying their products, said Michael Campagna, the company's president and chief operating officer.
To make the shift, Peerless moved in 2010 from Melrose Park to a bigger plant in Aurora and spent a year learning how to make the mounts. The state helped with the move by pledging $2.9 million in training funds and tax credits over the next decade. The company promised Illinois it would retain 253 workers and create at least 85 full-time jobs.
Campagna said the company retained the workers it agreed to. But as a result of the slow economy, Peerless hasn't hired all the full-time workers it expected to add. Its 480-person workforce includes 170 temporary workers.
If sales rise to the point where the Aurora plant can't meet demand, Campagna said he would expand the company's manufacturing plant in Mexico rather than increase production in the U.S. or return to China. "China is not as competitive as it was 5 to 10 years ago," he said, adding that Mexico, once again, seems more attractive.
Experts say the big caveat in reshoring is that some companies will still find it much cheaper to produce products in Asia geared for that market. And, to grow market share in Asia, some companies will have to make products there or align themselves with Asian manufacturers.
Josh Bivens, an economist at the Economic Policy Institute, a labor-oriented think tank based in Washington, also notes that the number of companies shifting production to the U.S. is not big enough to be considered a real trend.
Moreover, the U.S. manufacturing base has shrunk significantly, and some experts say some work can't be brought back because remaining plants can't take on production or workforce skills are lacking.
Bruce Kaminstein, founder and chief executive of Casabella, a Congress, N.Y.-based designer of mops, brushes and bakeware, said it's difficult to find U.S. plants to manufacture its items.
"I try to make products here in the U.S., and there are no factories around to do it with," Kaminstein said. "Any time there's some assembly work, there's absolutely no factories to make it."
Dan Swinney, executive director of the Chicago Manufacturing Renaissance Council, said the U.S. needs to put a lot more effort into training people so they can do the work. "As a country, manufacturing is fundamental to the future. We still have a competitive advantage in advanced manufacturing. We ought to recognize that instead of denying it."
Chicago officials used to have a perception that there was no future in manufacturing, but there is now a desire to be helpful and be part of the conversation about careers in the industry and the quality of the
workforce, Swinney said.
To try to close the gap in Illinois, manufacturers are partnering with the state and manufacturing associations to improve education in science, technology, engineering and mathematics, which are key to landing jobs in manufacturing.
Still, an estimated 600,000 manufacturing jobs have gone unfilled nationwide, according to a survey by Deloitte and The Manufacturing Institute published last year. Manufacturers expect the shortage to worsen in the next three to five years as older workers retire.
Bullock, Bison's chairman, said his company decided to buy motors from a Chinese supplier to keep prices low, but he acknowledged he was never happy with the quality.
In the mid-2000s Bullock started to reconsider his decision to move production overseas. He hired engineers and worked on a plan to slowly shift production to the St. Charles plant. The company hired 10 workers, Bullock said, and began producing half the motors in the U.S. and half in China. He lost a few customers, but they are talking to him again.
Bullock is passionate about his products. As he led a reporter on a tour of his St. Charles plant, he grabbed two round steel parts a bit smaller than a jar lid, calling the raw one an "ugly duckling" and the one transformed into a gear "a beautiful swan."
Bison makes about 350,000 gear motors a year, Bullock said. Sales dwindled in 2009, but he said his company caught up to 2008 levels in 2010. Last year, sales increased by about 20 percent to close to $100 million.
Aside from pride in selling an American product, Martin Swarbrick, Bison's president and CEO, said making motors in-house allows him to quickly respond to changes in demand. Another upside: He can make design changes within weeks instead of months, as was the case with the Chinese supplier.
"The communication was a lot more difficult because you had three to four points of communication all the way to China and back," Swarbrick said.
Alejandra Cancino is a Tribune reporter, acancino@tribune.com
Cheryl V. Jackson is a freelance writer, Twitter @WriterAlejandra
https://www.themadeinamericamovement.com/wp-content/uploads/2017/08/Made-in-America-Movement-Logo_340x156.png
0
0
MAM Team
https://www.themadeinamericamovement.com/wp-content/uploads/2017/08/Made-in-America-Movement-Logo_340x156.png
MAM Team
2012-04-17 12:05:01
2012-04-17 12:05:01
More Manufacturing Work Returns to U.S. Shores