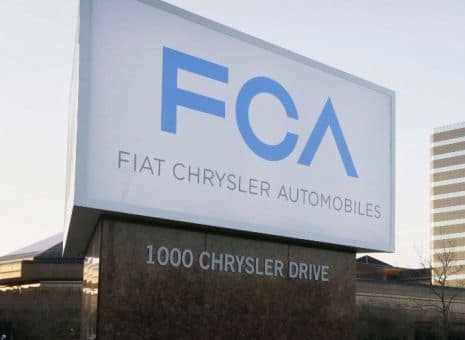 Fiat Chrysler Announces Plans To Invest $1 Billion In The U.S.
Fiat Chrysler Automobiles NV will invest $1 billion toward making three new Jeep models in the U.S., plus a Ram heavy-duty pickup now built in Mexico, as President-elect Donald Trump pressures the auto industry to hire workers and produce vehicles above the border.
The outlays planned by 2020 include retooling factories in Michigan and Ohio and adding 2,000 jobs, according to a company statement. The Italian-American automaker confirmed the Jeep brand will add the Wagoneer and Grand Wagoneer sport utility vehicles and a pickup model to its lineup. After improvements to a plant in Warren, Michigan, the site will be able to assemble Ram HD trucks now made in Saltillo, Mexico.
Fiat Chrysler is circulating the plans before any potential criticism of the company by Trump, who last week threatened General Motors Co. with taxes for importing a version of its Chevrolet Cruze from Mexico. Ford Motor Co. has canceled a $1.6 billion factory in the country and will invest $700 million into a Michigan plant.
"The expansion of our Jeep lineup has been and continues to be the key pillar of our strategy," Chief Executive Officer Sergio Marchionne said in the statement. He also highlighted plans to export the SUVs and trucks. "We will finally have the capacity to successfully penetrate markets other than the U.S. which have historically been denied product due to capacity constraints."
The added Jeep models have long been planned and analysts have been awaiting word on where they would be built, Michelle Krebs, senior analyst at Autotrader.com, said in an e-mail. "Investment in Jeep is smart money spent, and timing to ward off President-elect Trump's possible tweets at the pass doesn't hurt," she wrote.
Among major automakers, Fiat Chrysler sells the highest percentage of light trucks, which tend to be more profitable than cars. For this reason, it's also been seen as the most likely to benefit from the Trump administration and Republican-controlled Congress reducing regulatory demands for improved fuel economy, spurring a surge in the stock price.
"The sooner those new models will roll out of the factories, the better it is to support Fiat's mix and therefore margins," said Massimo Vecchio, an analyst at Mediobanca in Milan. "All major corporations are moving along the line of what Trump asked. They could get in exchange very likely a massive cut in the corporate tax rate, which is possible only if the U.S. increases" its gross domestic product, the broadest measure of economic activity, Vecchio said.
Mexico Matters
Fiat Chrysler employs more than 11,800 workers in Mexico at seven manufacturing facilities, which shipped 477,000 vehicles in 2015, according to the company's website. Its models built south of the border include Ram trucks and vans in Saltillo and Fiat 500 small cars and Dodge Journey SUVs in Toluca.
Having the ability to make those big work trucks in the U.S. as well as Mexico provides a hedge against a potential tax on imported vehicles, which Trump has threatened against GM and Toyota Motor Corp., in addition to Ford.
"Politically, it follows along with everything that's going on, in terms of domestic production," said Tom Libby, an analyst with IHS Markit.
The company is set to start producing a new version of its Jeep Compass SUV for the U.S. market at the Toluca plant. Its factory in Belvidere, Illinois, which used to assemble the model as well as the Jeep Patriot and Dodge Dart compact car, is being retooled to make Jeep Cherokee SUVs.
The added products reflect "where the market's going," Libby said. "That large SUV category is very profitable, it's very domestic-intended and it's a hole for them, so that makes all the sense in the world. Pickups are also doing very well. You put the combination of the Jeep brand with a pickup and you just can't miss."
SOURCE: Bloomberg
https://www.themadeinamericamovement.com/wp-content/uploads/2017/01/01-09-17-Fiat-Chrysler-Automobiles-headquarters-invest-1billion-in-usa-mfg-1.jpg
340
465
The Made in America Movement Team
https://www.themadeinamericamovement.com/wp-content/uploads/2017/08/Made-in-America-Movement-Logo_340x156.png
The Made in America Movement Team
2017-01-09 08:29:07
2017-09-08 14:41:41
Fiat Chrysler Announces Plans To Invest $1 Billion In The U.S.