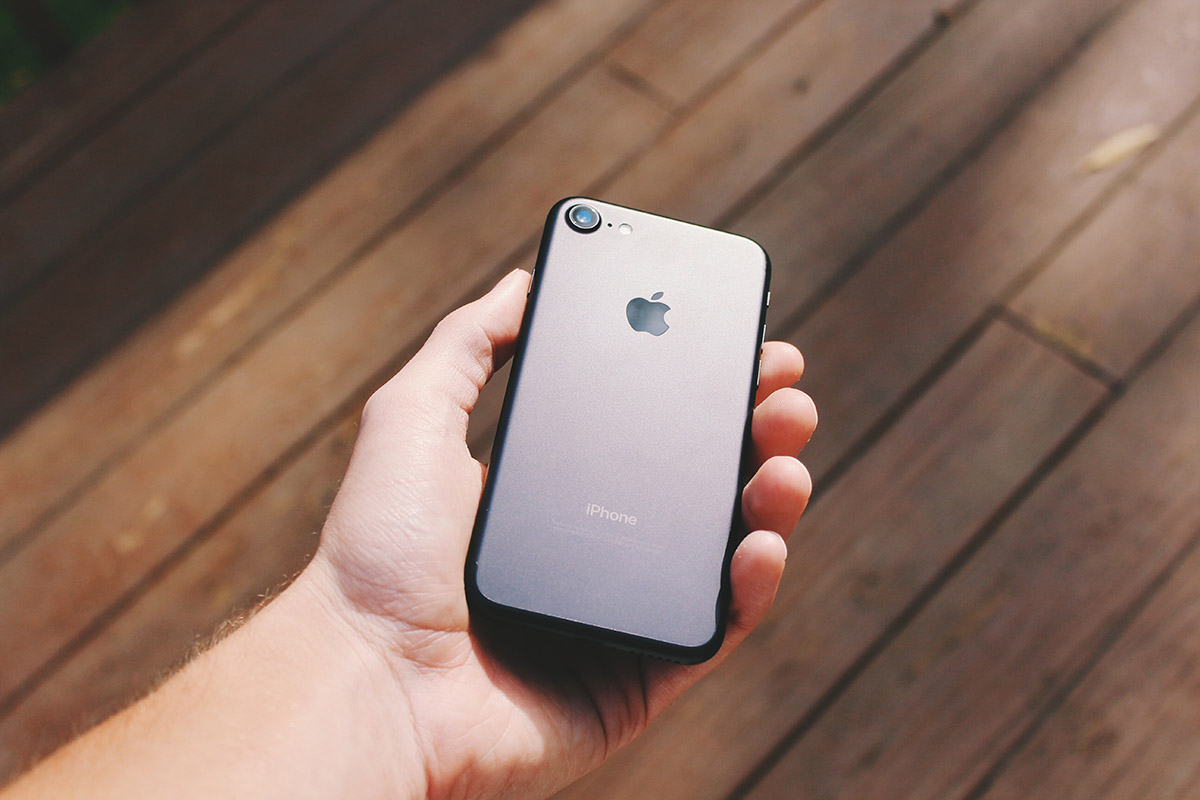 American Made Cell Phone: Is Apple Considering A Made in USA iPhone?
The world's largest contract assembler of consumer electronics, including the Apple iPhone, says it's in talks to invest in a US assembly, responding to Trump's tweets to bring jobs home.
Foxconn Technology Group, the world's largest contract assembler of consumer electronics including the Apple iPhone and iPad, said it's in talks to invest in an assembly in the United States, responding to tweets by president-elect Donald Trump for American businesses to localize their production and bring jobs home.
Foxconn, also known as Hon Hai Precision Industry Co., has around 1 million workers on staff, most of them in China, making everything from smartphones, tablets to laptop computers and screens.
While a US site is unlikely for Hon Hai's labor-intensive assemblies due to high American wages, it's a crucial move if Trump makes good his campaign promise to penalize US businesses that base their production — and especially jobs — offshore.
Foxconn confirmed it's currently negotiating the potential for investing in a US assembly, declining to elaborate.
"While the scope of the potential investment has not been determined, we will announce the details of any plan following the completion of direct discussions between our leadership and the relevant U.S. officials," the company said in a December 7 response to queries by the South China Morning Post.
Foxconn is no stranger to the US, operating in four US locations since 2013 covering logistics, warranty, and post-warranty services.
The 43-year-old Taiwan company, which also counts Dell and Hewlett-Packard among its American clients, has been studying investment possibilities in the US for the past six years.
Those moves would make sense because several major clients are based there and government officials may offer incentives, analysts say.
"What target they have we don't know, but there's some progress," said Liang Kuo-yuan, chairman of the Yuanta-Polaris Research Institute think tank in Taipei. "If Trump aggressively repatriates U.S. companies, then Foxconn can respond to some extent."
Founder and chief executive officer Terry Gou said in 2013 that Hon Hai would spend at least US$10 million over two years on a robotics automation plant in Pennsylvania, and increase the investment to US$30 million for expansion and for hiring up to 500 workers.
The company was also studying sites in Arizona, New Jersey, and Texas, all three states located close to customers, a spokesman said at the time.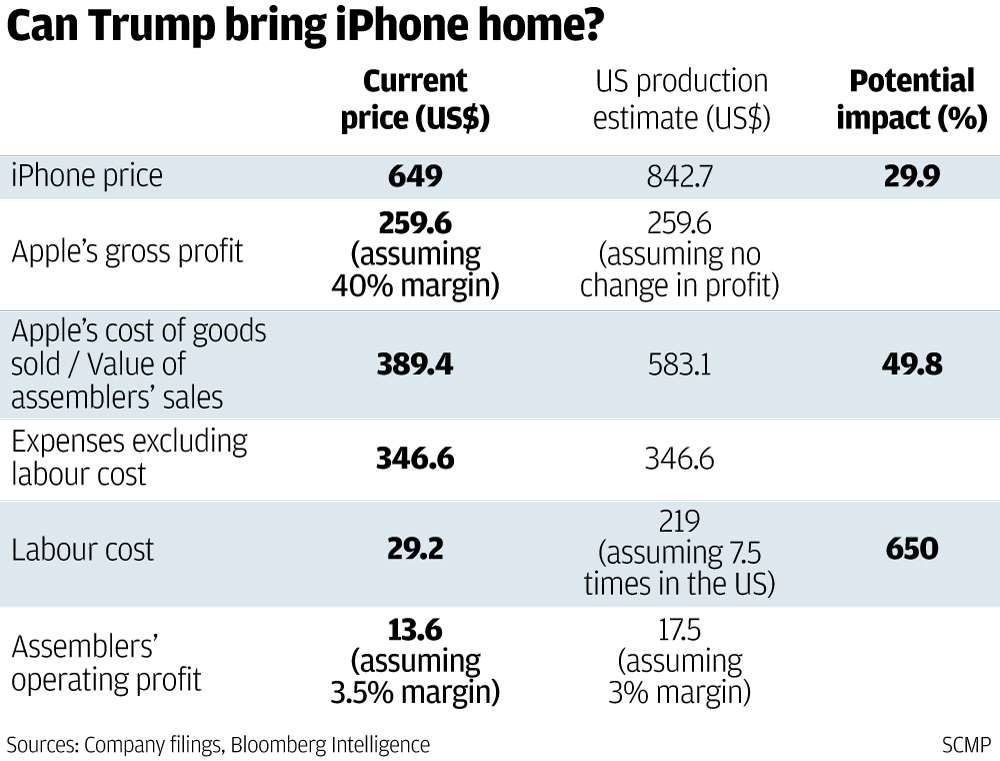 Trump, who will take office January 20, said via Twitter after his election that US businesses may have to pay a 35 per cent tax for producing goods offshore to sell at home.
Trump added that he would cut taxes and regulations for American companies that operate in the country. American tech firms such as Apple, Intel, and the major PC makers now outsource much of their production.
A made-in-America (Made in USA) iPhone will have to be priced 30% higher than the current sticker price, assuming the same 40 percent gross margin for Apple and accounting for higher US wages, according to a December 8 report by Bloomberg Intelligence.
Foxconn counts Apple as its single largest customer. Some analysts expect the Hon Hai deal being discussed now will pair it with Apple because Trump has asked the iconic Silicon Valley firm, in particular, to relocate jobs back to the United States.
Apple sources from more than 600 suppliers in Asia, more than half of them located in China, not including another 41 suppliers in Taiwan, according to the Apple Supplier Report. Products assembled in China make up 70 percent of Apple's total shipments, according to IDC's data.
"In my opinion, the decision to build up a factory is up to Apple," said Sean Kao, research manager with tech market research firm IDC in Taipei. "And the decision of Apple is up to subsidies (provided by) the American government."
Foxconn will accept the negotiation results if it makes money, said Amy Teng, research director with tech industry analysis firm Gartner in Taipei.
The company will generally prefer to manufacture in China, Brazil, and India, Teng added.
China can authorize business plans more effectively than the US due to the control that the government has over industrial policies, she said.
Land also costs more in the US, while changing the legal use of a land parcel – from farm to factory, for example – can be tough. Brazil and India offer tax incentives for final assembly work, Teng said.
"Hon Hai is a business, so they go where business is," Teng said. "The deal might be with the U.S. government or it might be with Apple. But they'll evaluate whether they can make money, and then go."
Foxconn's third-quarter revenue rose to about NT$1 trillion (HK$241 billion), with NT$42 billion in net profit.
Whether a US assembly can be profitable for Foxconn comes down largely to automation, said Yuanta Securities Investment Consulting Co's analyst Vincent Chen. Without automation, US labor costs may be prohibitive, he said. That's where Foxconn's Foxbots come in handy.
The Taiwan company has been developing industrial robots as it aims to automate as much as 30 percent of its mainland Chinese factories by 2020, the company said in July.
Automation, though common in American automotive manufacturing, is rare in assembly of consumer electronics.
"For 3C products, the level of difficulty is very high," Chen said.
SOURCE: SCMP
https://www.themadeinamericamovement.com/wp-content/uploads/2016/12/12-29-16-iphone.jpg
3456
5184
The Made in America Movement Team
https://www.themadeinamericamovement.com/wp-content/uploads/2017/08/Made-in-America-Movement-Logo_340x156.png
The Made in America Movement Team
2016-12-29 08:54:35
2016-12-29 08:54:35
American Made Cell Phone: Is Apple Considering A Made in USA iPhone?