Agent Image Review and Comparison
Agent Image creates very appealing semi-custom websites built on WordPress. While their overall maintenance costs are relatively low, they are one of the more expensive options to get started.
Their biggest downfall is the company's choice of IDX to power the home search on your website, which may lead to lower client retention and less organic visitors from Google.
Agent Image Advantages
The sites look good.
Built on WordPress
Pricing: Inexpensive maintenance costs compared to other well known website vendors
Agent Image Disadvantages
Lower quality IDX: They primarily use iHomefinder for the IDX and home search. See our IDX and Home Search Report to see how iHomefinder ranks and why you could be losing 75% of your potential clients to Zillow compared to other IDX and all-in-one options.
Confusion for agents on why to use: They now compete with their IDX, iHomefinder, to build websites.
No integrated CRM
Upfront costs: Of the large real estate website builder, they are one of the more expensive options.
Agent Image Overview
Agent Image is one of the largest real estate agent website builders. They offer a diverse selection of marketing solutions including PPC (pay-per-click) advertising, blogging packages, social media packages and more.
The company is one of the more established brands building real estate websites and has been around since 1999, now based in El Segundo, CA.
According to LinkedIn, 43% of Agent Image's employees work in Business Development and Marketing. Wow! That is indicative of a company that has mastered inside sales and not one that's focused on referrals and organic traffic.
Their median tenure of Agent Image employees is 5.7 years, so you may be working with the same rep for a long time, which is great for clients.
Agent Image Design
Agent Image website look good and they have a large number of designs to choose from, depending on your budget of course.
One of the negatives is that you license the design initially and if you want to redesign your site in a few years, you must purchase a design each time. That's a simple business model choice though, and one that works well for many agents. Just make sure to either budget for a redesign every two to four years or work with a real estate marketing agency that includes that in their monthly fees.
If you pay for a fully custom site, expect it to look stunning. They've shown repeatedly their ability to deliver truly incredible looking sites, minus the home search issues we mentioned above.
Agent Image Site Ownership and Customization
The company builds their websites on WordPress, which is the right choice.
WordPress gives you the best platform to build your site on, and if you ever choose to leave Agent Image, you can have another developer export your MySQL database, theme, and site content to move it to another host. There will be a cost for that work, but it gives you control of your site.
With some other large all-in-one options like kvCORE, BoomTown, and Real Geeks where you are essentially "renting" your website. If you leave those companies, you have to leave your website behind and start over, although you can often keep your domain name,
No CRM with Agent Image
This is not necessarily a bad thing though. Agent Image focuses on one thing really well – real estate agent websites.
We would suggest using a best-in-breed real estate CRM like Follow Up Boss or LionDesk to create a best-in-class Martech (marketing technology) stack to grow your business. An alternative is to use ActiveCampaign or ClickFunnels for even more marketing automation. This can be more work to set up than an all-in-one platform but will always perform better.
Non-Website Services and Offerings
Agent Image does offer some services beyond a great looking website.
If you need help with digital ads, writing blog content, and social media management, their team can help you out. However, other providers like those on our Top 17 Real Estate Marketing Agencies in the United States can often offer you better results at a fraction of the cost.
SEO and Google Rankings
Agent Image did not make the list of websites that are doing great at SEO, but this is not entirely something you should expect from your website designer.
There are 4 major parts to your SEO quality:
Technical onsite SEO: The Agent Fire sites we examined scored well for their technical on-site SEO.
IDX capabilities: Their choice of IDX (iHomefinder) scored 7th in our IDX and Home Search Report in terms of SEO capabilities and help.
On-site content: Much of this will be done after your initial website is built by creating real estate hot sheets, blog content, etc.
Off-site SEO work: You generally need a marketing agency that is focused on SEO to help you in this area.
With an Agent Image site, you CAN rank, but you'll have to do a lot of work to create good content and Off-site SEO work.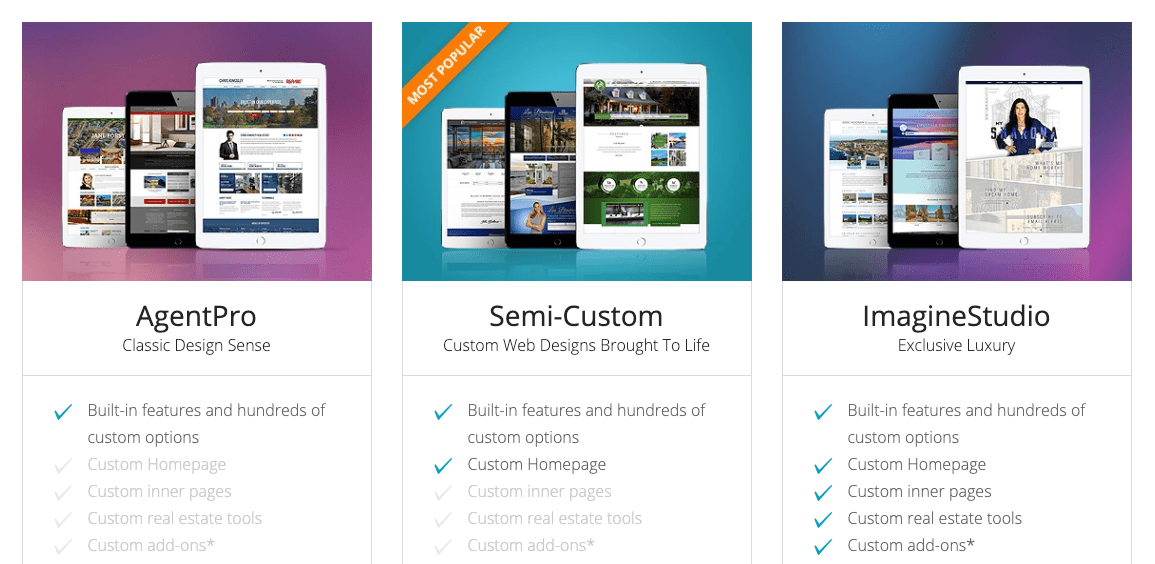 Agent Image Pricing
Agent Image splits their real estate website offerings into AgentPro, Semi-Custom, and Custom.
AgentPro: $2,000 setup fee + monthly maintenance. While this is their basic offering, it does come with multiple templates to choose from, and it's your content and home search options that will often differentiate your website the most.
Semi-Custom: $4,000 setup fee + monthly maintenance. You get a custom home page with this package.
ImagineStudio (Custom): Starting at $7,500 setup fee + monthly maintenance. At this level you unlock additional "inner pages", custom real estate tools, and some add-ons.
Monthly maintenance fees of $90+ / month apply to cover the cost of the IDX, hosting, and customer support – all with a minimum one-year agreement.
*Note: This is the best of our knowledge at the time of this writing. Contact the vendor directly to check current prices, discounts, and terms. If you have any updates, please leave a comment below.
Agent Image Reviews from Others
Here's a review from a former Agent Image employee:
You can find many reviews on BirdEye here.
Here's how you should track the success of your real estate website
Agent Image Summary
Overall, Agent Image builds good sites that are reasonably priced when you look at the investment in having a good real estate website over two to four years.
If you do not have the budget to get started, there are other agencies to talk with that can get you started for a fraction of the cost, although your costs may end up being similar over several years.
If you don't want to spend a bunch of time playing with your IDX settings and features, consider a website provider from our list of the Top 17 Real Estate Marketing Agencies in the United States.
Want an IDX with higher consumer retention, better SEO, and that our test show is the only home search chosen over Zillow, consider Showcase IDX.
Looking for in-depth reviews on