Easy Agent Pro Review and Comparison
Easy Agent Pro is a budget-friendly real estate website provider for individual agents and teams.
Many agents find them through their free marketing advice. Easy Agent Pro's reputation hinges on "beating Zillow" and being a "lead site". They drive a large amount of traffic to their own website, much of it from Pinterest. Agents can generate traffic themselves, with a good amount of DIY work as we'll discuss.
EAP's biggest negative is the choice of IDX powering their websites leads to 1) lower Google rankings and 2) lower retention of clients compared to other options seen in our IDX and Home Search Study. More on that below.
Easy Agent Pro Advantages
The sites look great.
Built on WordPress.
Good entry point pricing: Pricing for a basic website is good compared to what many non-real estate focused marketing agencies may charge.
Transparency: Transparent pricing you can see on their website and when clicking "get started"
Additional services: Easy ability to purchase Facebook Ads or visitors.
Easy Agent Pro Disadvantages
Lower quality IDX: They primarily use iHomefinder for the IDX and home search. See our IDX and Home Search Report to see how iHomefinder ranks and why you could be losing 75% of your potential clients to Zillow compared to other IDX and all-in-one options.
Compete with IDX Vendor for Website: Agents increasingly ask why they should buy a website from Easy Agent Pro when the IDX vendor they use, iHomefinder, offers websites for $59.95 – $199.95 per month.
Charge for initial training: There is a $299 fee for "Schedule a one hour call with an EAP Pro to get all your questions answered in person, and get comfortable with LeadSites.". Most real estate marketing agencies and website providers will walk you through your site one-on-one for no additional fee. While the 3 calls, assuming that is 3 one hour calls, would be more than what is included in others, it sounds like you must pay for your initial website onboarding.
Lots of Additional Fees
Easy Agent Pro Overview
Easy Agent Pro is mid-sized provider of real estate websites for individual agents.
Originally founded in 2014 in Overland Park, Kansas. The company was acquired by a new leadership team in 2019.
We love that the company believes that real estate websites are the hub of your real estate business, as a website you control and your database are the two most valuable components of successful modern real estate marketing. However, they also justify their usage of a poor performing IDX by saying "IDX doesn't work" and "IDX is a commodity" because Zillow and everyone else has access to this same MLS data. This shows that while they may know how to build websites and landing pages they have minimal understanding of modern IDX and what is truly available in the market.
Easy Agent Pro's focus on landing pages is good, but is that enough to overcome other parts of the company's offerings? Keep reading to judge for yourself.
Easy Agent Pro Design
We saw some great looking Easy Agent Pro websites that use bold colors and looked stunning, with a modern and unique design. As you'll see in the pricing section below, they do have a $999 upgrade option for an "amazing homepage" so it's not possible to verify what you get for the base price alone.
The search, listings and landing page templates look good.
The stand out from Easy Agent Pro landing pages geared on capturing leads, which the non-listing pages do well at.
Do not be deceived though by the look of their "fill-in-the-blank" neighborhood pages. They may look good but as we cover below do not live up to the SEO (search engine optimization) pages when you look at actual results.
Easy Agent Pro Ownership and Customization
The company builds their websites on WordPress, which is the right choice. However, it's not clear that you receive the true benefits of having a website built on WordPress.
With some large all-in-one options like kvCORE, BoomTown, and Real Geeks, you are essentially "renting" your website. If you leave those companies, you have to leave your website behind and start over, although you can often keep your domain name.
Given the proprietary custom landing page builders and themes, it's unclear if you could take your website with you if you left Easy Agent Pro.
Do you own your Easy Agent Pro website?
EAP lacks many of the customization options, including full customization, available with other website vendors. This is not necessarily a negative though, as we've seen hundreds of real estate websites built on off-the-shelf templates from other vendors that drive substantial organic traffic and retain clients. Most agents do not need full customization. You need something that works and is cost-effective.
Basic CRM
EAP websites come with a basic CRM that includes drip campaigns, text/SMS campaigns, lead management, a shared content library, deal tracking.
The Easy Agent Pro CRM is inferior to most other CRM options, both real estate specific CRMs and more robust marketing automation tool.
Our suggestion: Use 1) a real estate specific CRM like Follow Up Boss or LionDesk or 2) use a full marketing automation suite like ActiveCampaign.
Non-Website Services and Offerings
Done For You Blogging
All EAP offerings come with two weekly blog posts. While these may check the box for giving you some basic blog posts to include in an email newsletter, do not expect to rank on Google for these blog posts. However, given the low price point, what would you expect? A good SEO written blog post can easily run you $70 – $150 each. Here's a better source for blog posts that can rank and that your clients will read.
Social Media Scheduling
"Social Posting automatically pulls in your best IDX/MLS Listings, blog posts, InstaFarms (neighborhoods), and Testimonials. And schedules 20+ posts for you from our 100+ pre-written templates." If you're not doing social media already, this is better than nothing.
However, it does not support Instagram, and most marketers know that Facebook now greatly reduces reach (which is already low) when you use a 3rd party scheduler. Facebook provides Creator Studio for free that allows you to batch schedule content for Facebook and Instagram. Here's a walkthrough on how to schedule your own posts for free.
SEO and Google Rankings
Easy Agent Pro did not make the list of websites that are doing great at SEO, but this is not entirely something you should expect from your website designer.
There are 4 major parts to your SEO quality:
Technical onsite SEO: The Agent Fire sites we examined scored well for their technical on-site SEO. 
IDX capabilities: Their choice of IDX (iHomefinder) scored 7th in our IDX and Home Search Report in terms of SEO capabilities and help.
On-site content: Much of this will be done after your initial website is built by creating real estate hot sheets, blog content, etc. 
Off-site SEO work: You generally need a marketing agency that is focused on SEO to help you in this area.
EAP may have chosen iHomefinder because they have many MLS relationships, but the IDX drastically underperforms other options.
There are rumors that Easy Agent Pro has been building their own internal IDX tool, but as you can see in our IDX and Home Search Report, that is NEVER a path to success given the complexity of creating a modern home search experience today – the best that can be hoped for is a "check the box" lower-cost option.
With an Easy Agent Pro site, you CAN rank, but you'll have to do a lot of work to create good content and Off-site SEO work. If your goal is significant traffic from Google, make sure to set aside the time to do the work or bring in a SEO consultant that can help. In the end though, this will be hard to do with a website using iHomefinder.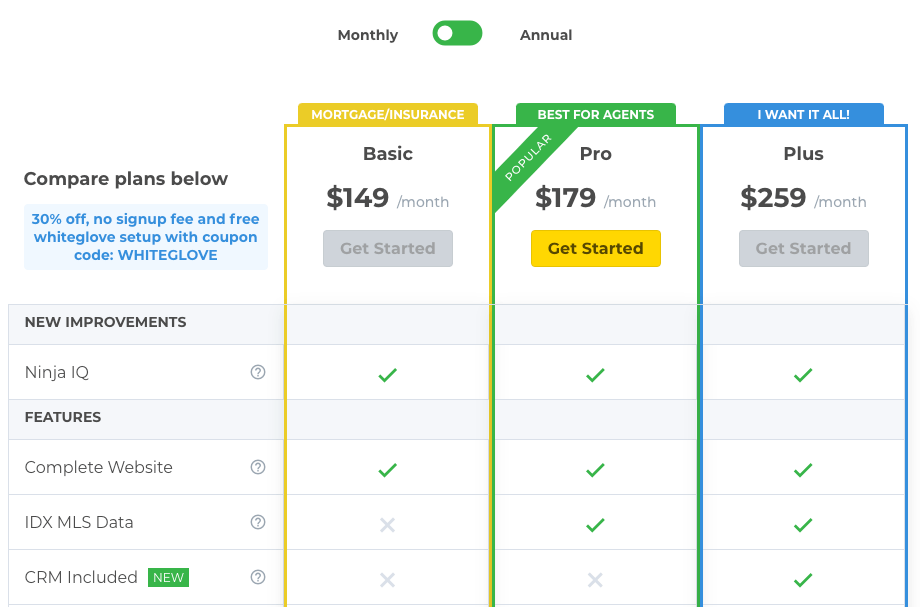 Easy Agent Pro Pricing
$149/mo for the "Basic" Mortgage site
$179/mo for the "Pro" Agent site
$259/mo for the Plus
No contract
Setup Fee: $199 + your choices
Of the sub-$200 / month real estate websites, EAP offers a good option to consider but make sure to consider upgrades and options when making your comparison.
Additional Fees include:
White Glove Setup: $399 (included by most top marketing agencies)
Professional Designer: $299 to help pick a unique design for your site and add 10 community pages.
Coaching Calls: $299 for in-person calls to get comfortable with LeadSites
Hands-Free Social Posting + 1 Hour Coaching Call: $199
Importing Testimonials: $199
Amazing homepage: $999 They charge almost $1k for a home page upgrade. Does that make you question the home page included with their basic packages?
*Note: This is the best of our knowledge at the time of this writing. Contact the vendor directly to check current prices, discounts, and terms. If you have any updates, please leave a comment below.
Easy Agent Pro Reviews from Others
Easy Agent Pro vs Real Geeks
Here's how you should track the success of your real estate website
Easy Agent Pro Summary
Skip if you want real estate website that you own and control. Consider Easy Agent Pro if you're less focused on having a home search that your clients will use and more focused on a cost-effective DIY service that will allow you to create landing pages that will generate lead.
Overall, Easy Agent Pro websites look good and you can get set up quickly. However, there are other vendors with similar price points that you should consider before making your decision on who to use to create your website.
==> Click here to see other vendors to consider as part of your decision. See our list of the Top 17 Real Estate Marketing Agencies in the United States.
Make sure your website designer uses Showcase IDX to get the best consumer retention, better SEO, and the only home search chosen over Zillow.
Looking for in-depth reviews on