REALTYJUGGLER REVIEW AND COMPARISON


This review compares RealtyJuggler with Top Producer and kvCore. There are 6 major players in the CRM market: RealtyJuggler, Top Producer, iXACT, WiseAgent, LionDesk and kvCore. There are certainly others, especially those that are specifically used by national brokerages, but the ones I have listed are used by independent agents and brokers as well. I also left out generic CRMs that don't have real estate specific features.
RealtyJuggler Real Estate CRM main claim to fame is that it is easy to use. Paradoxically, it also provides powerful features such as lead nurturing, transaction management, email, and texting features, as well as one of the largest real estate specific letter libraries I have seen. They also have a large flyer library as well as quite a few eCards to select from as well. That's super handy for a real estate agent who might be looking for pre-made content that they can tweak and start using right away.
I saved the best for last. They have some knowledgeable and friendly technical support people that you can get ahold of by just calling them up. Yes, you heard me right. They have a technical support phone number. I had a chance to try their technical support several times during my testing. And I was able to speak with someone who knew what they were talking about each time. While I have nothing against chat support or email support, there are sometimes when I would like to get someone on the phone right away and RealtyJuggler didn't disappoint in this regard.
The reason that I am bringing RealtyJuggler to your attention is that they have some of the best USA-based technical support in the industry. Most competing real estate CRMs don't offer phone support, or phone support is an extra charge. RealtyJuggler is based in Fort Collins, Colorado. I found their support was quick to answer the phone. No long wait times, and no issues in communicating with them. They were able to clearly answer my questions and didn't rush me off the phone. They were friendly and helpful.
I found the pricing to be quite reasonable. Many CRMs will start out with a starting price, but once you have added all the options, the price goes way higher. RealtyJuggler just has one price of $179 per year. There is only one optional feature that you will pay more for and that is for SMS texting. SMS Texting is provided by a third-party vendor, Twilio, and for that you are charged based upon your usage. That seems fair to me, because if you are sending a ton of text messages, you are going to pay more than someone who does not send a lot of text messages.
Check out our in-depth review of RealtyJuggler below to learn more.
RealtyJuggler Advantages
Price: RealtyJuggler is priced as an annual membership of $179 per year, per person. Even though you pay annually, they offer a prorated refund at any time. One thing I found unique is they lock in that price and promise not to ever raise it if you keep your membership current.
Deal Tracking: RealtyJuggler provides a comprehensive system for tracking buyer and seller deals, sometimes called Transaction Management. Some CRMs only handle one deal at a time for a client or just one side of a transaction. RealtyJuggler allows multiple active deals for each client and can even have a way to track deals when you are handling both sides of the transaction.
Printing: RealtyJuggler can print labels, letters, and even envelopes. While I think most people use email nowadays, there are still sometimes when only a printed letter will work, and it is nice that RealtyJuggler supports printing. One example I can think of is sending Christmas cards. There's something about getting a physical card in the email that just can't be replaced by an email. RealtyJuggler can print mailing labels, and it can also print directly on envelopes, which would provide a personal touch to Christmas mailings that a label might not give.
Time-Release Drip Letter Campaigns: RealtyJuggler has a library of 48 different time-release drip letter campaigns. The drip sequences cover a variety of life circumstances, like marketing to empty nesters, first-time buyers, and veteran home buyers. You can use these drip sequences as is or customize them. It is also possible to create a completely custom drip sequence as well.
Email marketing: RealtyJuggler provides email marketing as a built-in feature, tracking open rates of emails as well as letting you know about mistyped email addresses or even email addresses that "bounce" meaning that the email address has stopped working. You can also include videos, images, and flyers that display in the body of the emails. RealtyJuggler claims that deliverability for emails sent through RealtyJuggler is some of the best in the industry due to their compliance with government SPAM rules. This claim was difficult for me to verify, but I had no issues in my testing, so it does sound plausible.
eCards: RealtyJuggler provides libraries of eCards for holidays and occasions such as birthdays and closing anniversaries. New entries are added to the eCard library each year and include colorful graphics, often with animation, which is fun. Like drip campaigns and single emails, eCards the ecards can also be customized.
Flyers: RealtyJuggler has a large editable real estate flyer library as well. I was able to easily print my flyer, and also to embed it as an image into an email
Integrations: RealtyJuggler works with many Real Estate lead services like Zillow, Trulia, and Realtor as well as IDX websites. The integration is in the form of feeding leads directly into RealtyJuggler from these third-party services.
Calculators: Included with RealtyJuggler are Rent vs. Own, Maximum Loan, Mortgage Payments, Buyer & Seller Net, and Commission calculators. Sure, these are available elsewhere, but it is very handy to have them included and linked where I need them.
Google Sync: RealtyJuggler includes synchronization with Google Contacts and Calendar. In testing, I found this synchronization to be one of the most complete I have ever seen. All the standard fields are synchronized including spouses' names, Birthdays, and other special dates. I've tested other real estate CRMs which offered incomplete synchronization of notes, but in the case of RealtyJuggler, the notes were synchronized in both directions flawlessly.
RealtyJuggler Disadvantages
Interface looks dated: RealtyJuggler has a rather antiquated-looking user interface. I spoke with technical support about this, and they told me that the user interface was designed that way because they prioritize ease of use over looks. While I agree that RealtyJuggler is super simple to use, I do wish they would update their icons.
Limits on the Number of Records: RealtyJuggler has a limit on the number of contacts and prospects that you have in an account. That limit is 5,000 contacts and an additional 5,000 prospects, which gives you a total of 10,000 people you can market to at any one time. While I think most real estate agents will find that limitation to not be a problem, I do think that some agents might want to look elsewhere if they have a lot of records in their database. Technical support claimed that these limits are due to limits in synchronization capability with smartphones. This limitation is one that will either not matter or will be a dealbreaker for you. One consolation, RealtyJuggler does offer complimentary help with importing data, merging duplicates, and cleaning your database.
Does not include a website: RealtyJuggler is strictly a real estate CRM. If you need a website, you will have to get one through another vendor. You can easily connect any third-party website to RealtyJuggler, but a website is not included. Some other real estate vendors include a basic website with CRM. I asked support about this and the explanation they gave is that each agent is going to have different website needs. Having the selection of a website as a separate choice allows flexibility. In this case, I tend to agree. With the dominance of websites like Zillow, it is a lot harder for an individual real estate agent to provide a searchable website that is competitive. I understand why some agents might opt for a simpler website that does not include a searchable database of homes for sale, while other agents with larger budgets might want to use a vendor who can provide the Search Engine Optimization (SEO) services necessary to have that more complex website show up in web-search results.
Only useful for Real Estate: There are many features in RealtyJuggler that are only useful for real estate agents and perhaps real estate investors. If you aren't in real estate, I think a different CRM is going to be a better fit for you. For example, if you are in the insurance business, you could probably use RealtyJuggler for its basic CRM features, but you aren't going to be able to use the calculators, the transaction management, or the provided letters. RealtyJuggler is designed for real estate, and I think it does not translate well into other industries.
REALTYJUGGLER REVIEW
RealtyJuggler Real Estate CRM is for individual agents as well as teams. It's hard to identify a key focus for the product, as there are so many individual features. In many ways, it's a Swiss army knife for real estate agents. The main features are transaction tracking and lead incubation. But there's also income and expense tracking. RealtyJuggler can also dial your mobile phone, send and receive text messages, send emails, and print letters and envelopes. Real estate calculators can help qualify leads. There is also an extensive library of letters, flyers, and eCards. What connects all these features together is that they are all useful for a real estate agent. This is why I keep thinking of a Swiss army knife, with a knife, fork, screwdriver, nail file, corkscrew, and half a dozen other implements. There is a lot of content, all in one package.
While RealtyJuggler does have many features, there are some other products or companies you might want to integrate RealtyJuggler with. RealtyJuggler provides a list of over 100 third-party vendors who have been validated to work with RealtyJuggler. These services include IDX Web Sites, lead services, website services, postcard companies, SMS texting companies, several phone dialers, as well as video hosting platforms like YouTube, and Vimeo. The list looks quite extensive. It's great to see that RealtyJuggler works well with other vendors.
One thing that I find notable is their 90-day free trial, which requires no credit card. I am not aware of any other real estate CRM that offers as long of a free trial. Most other vendors require a credit card and will turn your free trial into a paying account if you do not actively cancel before the end of the free trial period. With RealtyJuggler, they take the opposite approach. If you do nothing, the free trial expires. You must proactively sign in and purchase a membership If you decide you want to move forward with RealtyJuggler.
I think demonstrates confidence, perhaps even cockiness from the company. For example, Top Producer does not offer a free trial, the minimum contract term is 1 year and there is no refund possible. For kvCore, not only do they not offer a refund, and the contract is also 1 year, but they also charge a nonrefundable setup fee of $999.
The great thing about RealtyJuggler is that you can use it for a full 90 days without any obligation. For many agents, that is a full summer selling season and there's a good chance you will have gotten your first commission check before you need to pay for your RealtyJuggler membership. I think that makes RealtyJuggler perfect for a real estate agent who might be just starting out, or who isn't sure what CRM they are looking for. This means you can give RealtyJuggler a go, and if you are happy then purchase it. If you aren't, you can try another CRM at any time and not feel like you are locked in for a full year. There's no worse feeling than being trapped in a CRM for a full year, without any way of getting out of the contract.
Video Emails
I was able to send an email using RealtyJuggler that included an embedded video from YouTube. In the below example, I'm using some of the mail merge variables that make RealtyJuggler template creation so easy to use.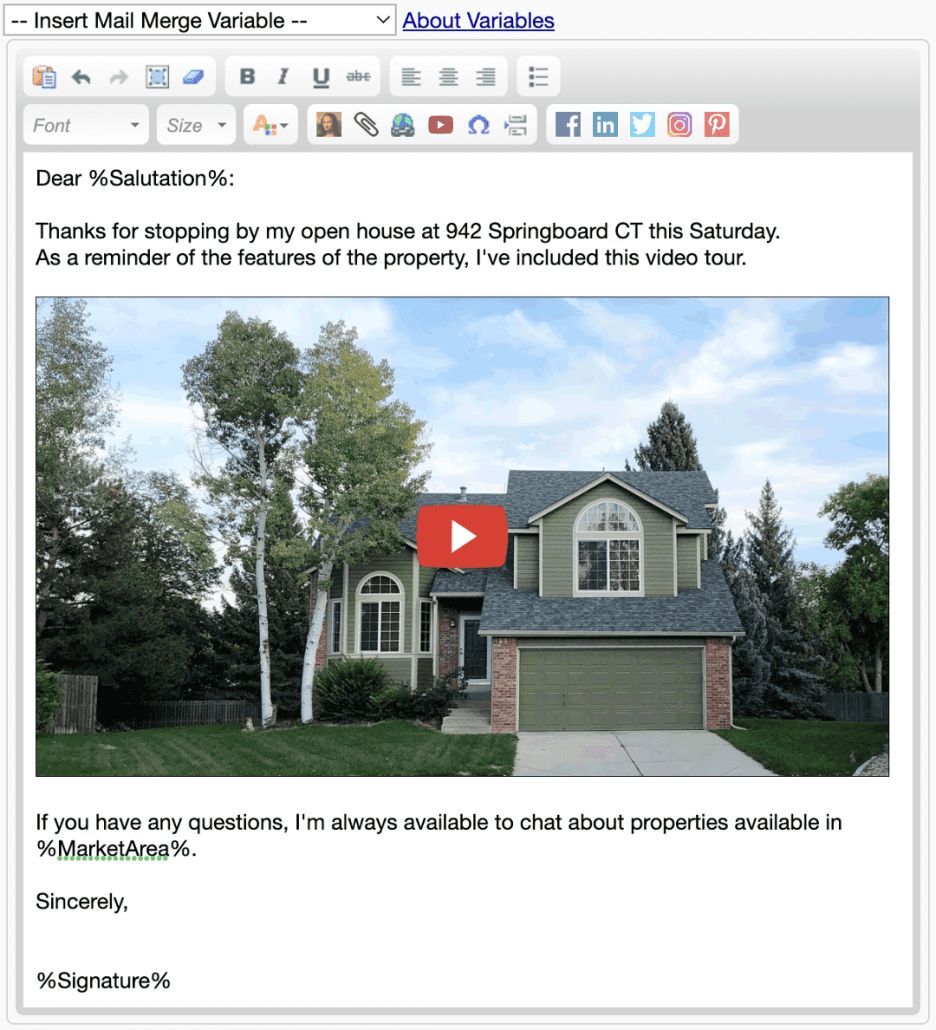 I opened the email on my smartphone and the mail merge variables were filled in. I was able to play the video with no problem. I was surprised at how easy it was to embed the video in the email and send it out. I can imagine several ways a real estate agent could take advantage of this feature and it seems like something that would be super handy.
I was able to contact technical support via phone as well as through the contact me form on their website. In both cases, I got quick, clear answers to my questions. I did notice that their phone technical support is limited to 9am to 5pm Monday through Friday. While this wasn't a problem for me if you run into an issue on a weekend that could be an issue for some. Their website does say that they will answer the email questions during the evening and on weekends, but I did not have a chance to test their turnaround during those times.
Flyer Library
RealtyJuggler offers a long list of flyers, both portrait as well as landscape, with a variety of styles. Many of the styles I personally have no use for – flyers for commercial properties, land flyers, flyers with very specific imagery, flyers with room for two agents, etc. However, just because I have no use for some of the flyers they provide, doesn't mean that they don't have an audience that needs them. Since there were around a hundred flyers to choose from, I was able to find several flyer designs that I really liked.
The way that the flyers work is that you download them as a PDF file and open them with Adobe Reader. I first tried editing the flyers using my web browser, but that won't work. You must use the free adobe reader application that is available from Adobe.
Once I did that, all I had to was copy and paste the text and then click on the boxes for images and pick the images from my hard drive. I had a working flyer in just a few minutes. The layout was already complete, and all I had to do was create the text and images for the house.
It looks like the flyers can be used in many ways within RealtyJuggler. For example, I printed one and sent it by email. But I could have also sent the flyer with a text message or uploaded it to social media like Facebook or Twitter. I also was able to use that flyer for my call capture testing, which I describe in the next section.
Here's the flyer I was able to create in just a few minutes: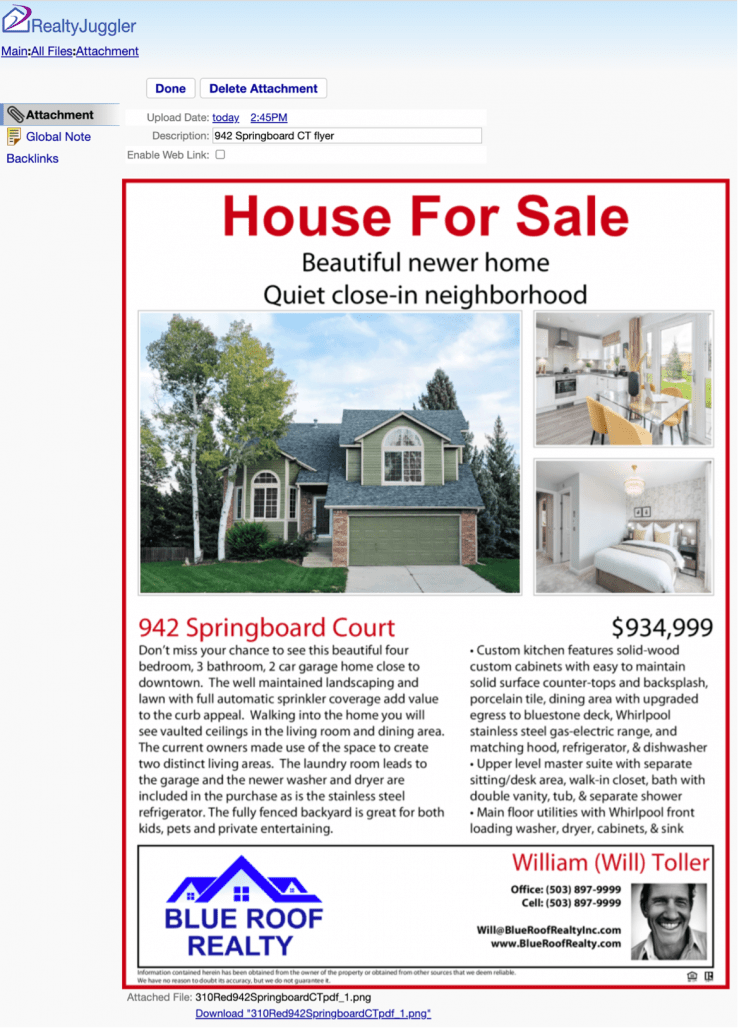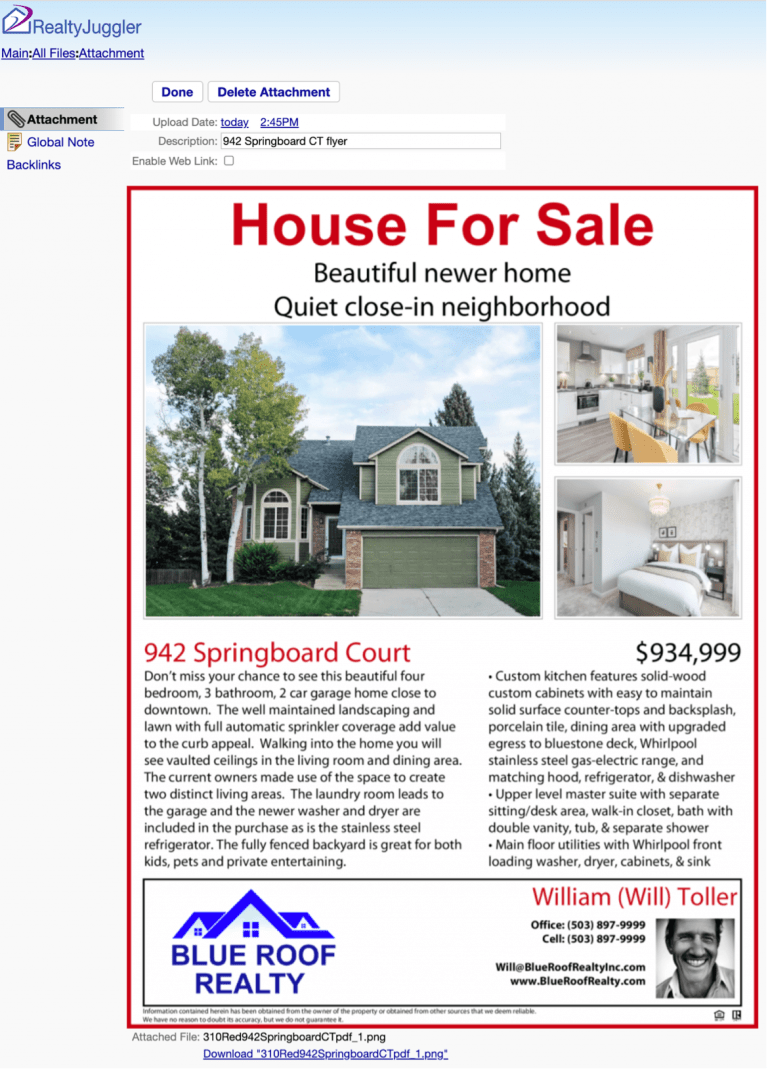 SMS Texting
I was able to configure RealtyJuggler to send SMS text messages. Doing this required that I create a Twilio account. RealtyJuggler does not mark up the pricing, so the pricing on the Twilio website is what I paid for texting when I tested it. When I created my Twilio account I put $20 into it. The support technician at RealtyJuggler said that I should expect that $20 would last about a year of regular use. In my testing, I used around $2 so I do think the cost of SMS texting will be quite modest. There are other real estate CRM's that charge $25 or more a month for texting, so SMS texting with RealtyJuggler looks like an excellent value to me.
I was able to send a text message to someone else in my office and their reply came back to me within RealtyJuggler. I also got a text message notification of the reply on my smartphone, which is handy. One limitation that is noteworthy is that text messaging using RealtyJuggler does not use my mobile phone number. Instead, I had to get a new phone number from Twilio. This is a phone number that is unique to me and if anyone calls that number, my RealtyJuggler call capture system will answer. Text messages go into my RealtyJuggler account and are automatically connected to the correct Contact record.
I also got SMS text notifications of my tasks and appointments once I configured Twilio. At first, I figured that this would be a super useful feature, but after I got RealtyJuggler to synchronize with my calendar on my smartphone, I turned off the SMS alarms for that as I was also getting email notifications for appointments and the text message notifications were redundant.
Call Capture
Call Capture uses the same Twilio setup that I used for SMS texting, but I feel like this was important enough to warrant a separate section. If you have never used a Call Capture system for a listing, here is how it works: Your sign can have some sort of rider letting your potential buyer leads that there is 24-hour information about the property and that they should text a code to a phone number or shortcode. So, the sign would say something like "For more information, text 909 to (600) 666-1234".
What I like about call capture is that some people will feel comfortable sending a text message, when they might not want to talk with a pushy salesperson. Or they might be driving by in the late evening and feel OK sending a text message at 11pm when they might feel uncomfortable making a phone call. When someone sends that text message, they get an instant text message response. I was able to embed an image of the flyer I created earlier, which is sent via a text message when someone texted my call capture phone number. That eliminates the need for a flyer box in front of my listings, which saves me money.
But what I really like is the next part. When someone sends that text message, RealtyJuggler captures their phone number and creates a new record in the database, and sends me a text message too. So, I can follow up with that person later. If I had a flyer box, I would not be able to know who picked up my flyer, but, with call capture, I know each person who gets my virtual flyer and am able to follow up with them.
There's also a way to use call capture for voice calls, and to connect callers to my mobile phone, and take voice mail messages which are then transcribed into text messages. These are advanced features that I think really add value to RealtyJuggler. I have seen this feature alone cost upwards of $300 a year when purchased as a standalone feature, so having this included for free in RealtyJuggler s super impressive.
Smart Phone Synchronization
I was able to connect the address book and calendar on my Android smartphone to RealtyJuggler using Google Sync. This was super helpful as I was able to then dial phone numbers on my Android phone from my RealtyJuggler contacts. I also had my full RealtyJuggler calendar on my smartphone. Those appointments notified me a few minutes before each appointment using the standard notifications alerts that are on my Android smartphone. This is a feature that really should not be underestimated.
Most real estate agents are on the run a lot and being able to quickly look over your calendar and contacts from your smartphone is really a killer feature. Hats off to the RealtyJuggler team for making that work seamlessly. I even was able to add a note to one of my contacts on my Android phone, and then when I went back into RealtyJuggler I was able to synchronize that note back into the contact in RealtyJuggler.
One limitation that I did notice is that when I make changes in RealtyJuggler, those changes are automatically transmitted wirelessly to my smartphone. But, if I made changes on my phone, I had to go to the Google Sync screen in RealtyJuggler to get those changes synced back into RealtyJuggler. They do have tutorial videos for both Android and iPhone, but I did not have a chance to test with an iPhone.
REALTYJUGGLER PRICING:
RealtyJuggler is one of the most affordable real estate CRMs out there. The price is $179 a year which is lower than the competition. When I compare the features RealtyJuggler offers against the competition, I don't see a huge difference in features. I could even argue that RealtyJuggler has more features than others that are more expensive. They also offer excellent phone support as well. Which makes me wonder – What is the catch? How can these guys be less expensive than the competition, offer at least as many features, and provide USA-based live phone support as well?
One difference that I have found between RealtyJuggler, and other competing CRMs is that they do not spend a lot of money on advertising. I haven't seen them at any of the trade shows like NAR in Los Vegas. While RealtyJuggler does offer team and office versions of RealtyJuggler, my impression is the bulk of their sales is direct to individual agents as the product is very agent-oriented. Most competing real estate CRMs seem to focus on sales to larger teams or entire offices. Whatever the reason, their pricing is a great deal.
RealtyJuggler has been around since 2004, and with their pricing guarantee, you really can't go wrong.
Additional fees:
All texting requires a $1 / month fee for a local phone number that the agent picks out. Texts are three-quarters of a cent, each. 100 texts are 75 cents. These fees are paid to Twilio and are not required if you don't use their texting features.
Assistant or partner memberships are also $179 per year.
REALTYJUGGLER REVIEWS FROM OTHERS
RealtyJuggler's Google reviews are nearly uniformly positive. The positive reviews mentioned price, customer service, user-friendliness, value, and the 90-day trial. The negative reviews mentioned the limitation of 5,000 contacts, size limitations in document storage, and not being able to send a bulk email during the free trial. I didn't run into those limitations, but I was able to confirm that they do exist by calling RealtyJuggler technical support.
Since RealtyJuggler runs on every modern computer, tablet, and phone, as well as any browser, you aren't chained to your desk. As one reviewer said: "With RealtyJuggler, my office is anywhere I happen to be. With my laptop or tablet running RealtyJuggler, either using available WIFI or tethered to my phone, I can take advantage of any spare moments I have between appointments."
RealtyJuggler has been accredited with the Better Business Bureau since 2006. RealtyJuggler has an A+ rating which is their highest rating. Note that BBB seems to be mostly used for brick-and-mortar stores, and this is the first online service company I've reviewed that is a member.
From reading many of these reviews it appears that many agents have a Broker-provided CRM and they choose to use RealtyJuggler to maintain their independence and for the advanced feature set not provided by the in-house solution. To quote another reviewer: Just because it is "free" or paid for as part of your broker fees, does not mean you should use it. Make sure you are using the tools that will help you reach your goals.
Why RealtyJuggler was chosen over TopProducer and kvCore
I decided to compare RealtyJuggler against two other leading real estate CRMs. The two that I selected are Top Producer and kvCORE as these are popular choices for real estate agents. Here is a summary of that comparison:

I think the most notable difference between RealtyJuggler and the competition is that RealtyJuggler offers a free trial, a refund policy, and lower pricing. The other products did not offer a refund, cost more, and locked you in for a 1-year contract. The fact that RealtyJuggler offered such a long free trial, as well as a pro-rated refund, made me think of legendary American companies like LL Bean, who offers lifetime refund at any time for any reason.
Perhaps Top Producer and kvCORE make fantastic products. But there may be reasons why you might want to get a refund after a few months that have nothing to do with how great the product is. For example, perhaps you bring on a partner and they are already using another CRM. With RealtyJuggler, you can get a pro-rated refund. But, with the others, you would be stuck.
I also felt that having phone technical support is so important when using a real estate CRM. This is a product that is the core technology of your business. You really need to be able to get someone on the phone to answer questions. While email and chat support can work, I have found they take longer and can be super frustrating. There's just nothing better than getting support on the phone and having them walk you through how to use a feature. What happens if the product has a bug and does not operate as it should? Getting someone on the phone is really a must.
Related to technical support is the Onboarding process, which is just a fancy way of saying what it takes to get set up and started. This includes importing contacts, merging duplicate contacts, and installing a letterhead and signature. Once I got that done, one of the support technicians at RealtyJuggler spent a full hour walking me through how to use their CRM.
What I absolutely loved was I could ask questions and direct the training towards features that interested me. This was not a canned webinar, but instead was personalized training that covered just what I wanted to learn. Did I mention that onboarding with RealtyJuggler was free? Well, it was, which is unlike Top Producer which charges as much as $299 for onboarding, and kvCORE charges a whopping $999.
Regardless of which CRM you do end up selecting, I would highly encourage you to take advantage of the full onboarding experience as it allows you to start using your real estate CRM immediately. It is just too easy to buy your real estate CRM and then have a long list of things that need to be done before you can start using it. But, with onboarding, that process is compressed which usually means you can be ready to go in a day or two.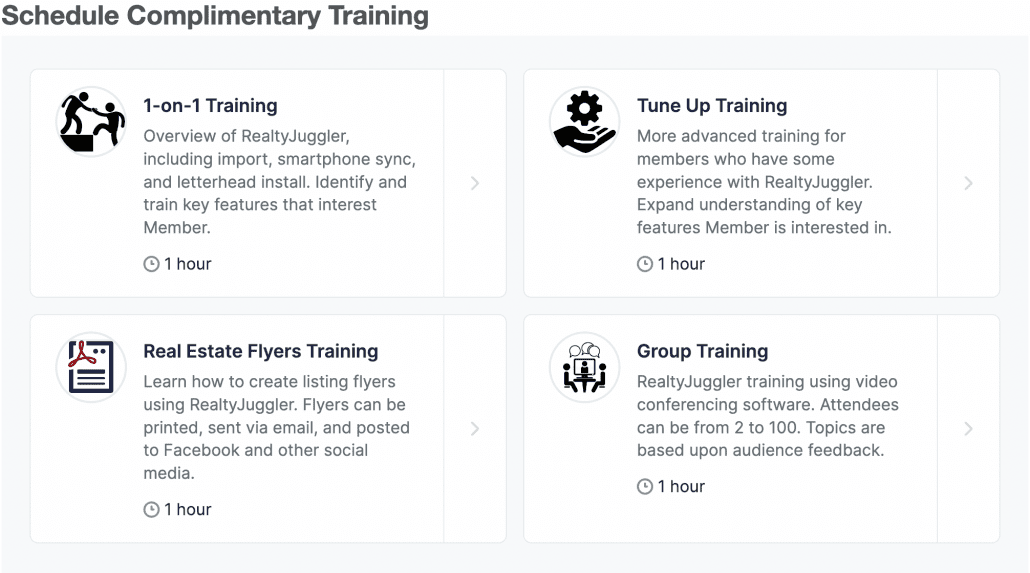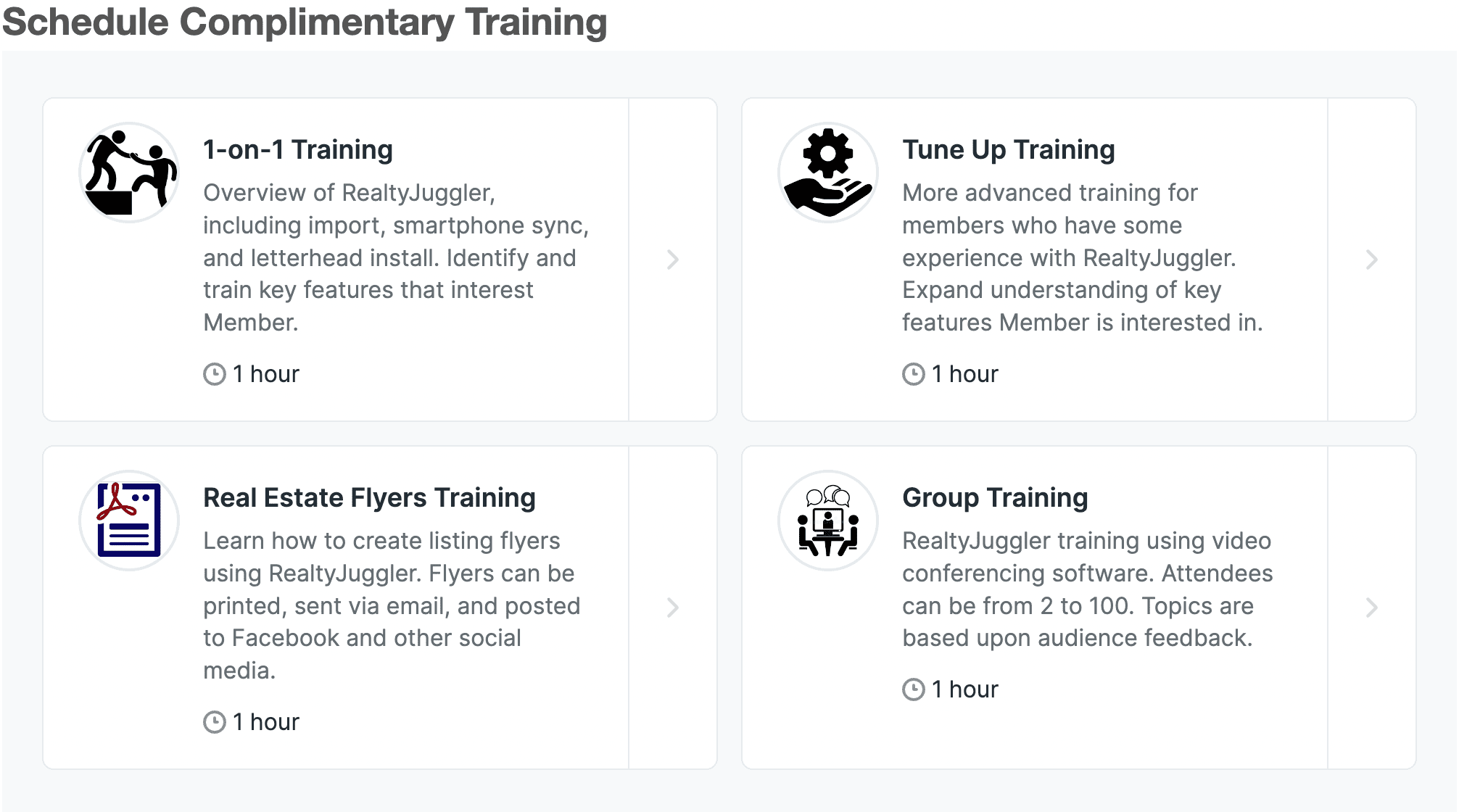 REALTYJUGGLER SUMMARY
I found that RealtyJuggler is a solid real estate CRM that delivers everything that it promised. It is affordable, has excellent technical support, and has more features than you can shake a stick at. I also found that it was surprisingly easy to use. The liberal free trial would make it a great choice for an agent just starting out, or someone who is on a budget. I think for an individual agent, an agent with a partner or assistant, or a small team it would be ideal.
I don't think it is the perfect choice for everyone, however. There were a few shortcomings, particularly if you wanted to use it for something other than real estate. The limitation of 10,000 records, while not a problem for most people, might be an issue for super-agents who have large databases.
Give RealtyJuggler a try if you are looking for a sold real estate CRM at an affordable price. You won't be disappointed.
Want an IDX with higher consumer retention, and better SEO, and that our test show is the only home search chosen over Zillow, consider Showcase IDX. Click here to see our review of it.
LOOKING FOR IN-DEPTH REVIEWS ON
Tip: Make sure to set up whitelisting so the emails come from your own domain. This improves deliverability.